Complete closure of Clyde cod box leaves fishermen reeling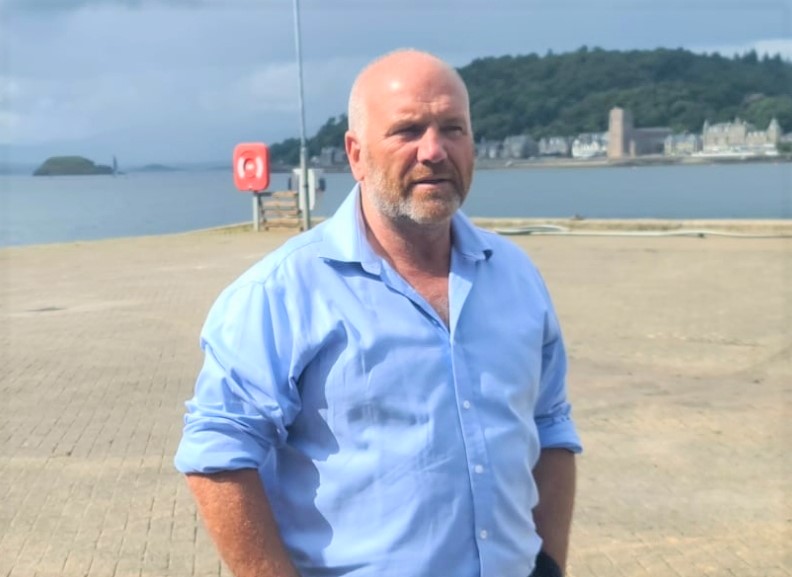 Want to read more?
We value our content and access to our full site is only available on subscription. Your subscription entitles you to 7-day-a-week access to our website, plus a full digital copy of that week's paper to read on your pc/mac or mobile device In addition your subscription includes access to digital archive copies from 2006 onwards.
Problems logging in and require
technical support?
Click here
Subscribe Now
A Campbeltown creel fisherman, with three sons and a step-son working in the same industry, has said news of a planned 11-week fishing ban in part of the Firth of Clyde was like 'a grenade going off in his family'.
Hughie McAllister said the Scottish Government's decision to completely close the Clyde fishing grounds, known as the cod box, for almost three months will affect his and his sons' businesses 'drastically'.
The area – roughly between Ugadale Point on Kintyre's east coast, the south of Arran, south to Loch Ryan and across to Campbeltown – will be closed from February 14 to April 30 in 2022 and 2023.
Measures to protect cod stocks in the area were first put in place more than 20 years ago, through an annual 11-week seasonal closure between those two dates, which was largely supported by local fishermen.
Prawn trawlers, scallop dredgers and creelers, including Hughie, who has been fishing for 30 years, were exempt from these restrictions due to the low numbers of cod they catch.
However, Marine Scotland, the government agency responsible for managing Scotland's seas and freshwater fisheries, said cod stocks in the area were showing 'little sign of recovery', meaning the exemptions must end.
'We thought everyone was quite happy with how things were, but now we're being told we've got three weeks to get our gear out and we can't fish there for nearly three months,' said Hughie, who initially championed the cod box closures.
'Anything we catch that we don't take is returned to the sea alive. It's totally sustainable.
'We want to preserve the fish stocks; everything I do is to protect the industry for my children and grandchildren. I'm not here to make a quick buck.'
Hughie employs one person on his boat full-time, with an additional worker taken on in the summer, while his eldest son Paul and his middle son Richard each employ two men, and his youngest son James employs Hughie's step-son Charlie.
'We fish a lot of creels to make it viable,' Hughie said. 'Between our boats, we'll have between 4,000 and 5,000 creels, and where are we going to put them?
'We never got any consultation or options; there was no working with us at all because we'd have been happy to work with them.'
The announcement by Cabinet Secretary Mairi Gougeon at Holyrood last week couldn't have come at a worse time for the McAllister family, as Hughie's wife Nicola is suffering from terminal cancer.
He said: 'With my wife being unwell, if it's a good day, I can go out on the boat and my gear is close at hand but, if I'm not allowed to fish in that area and I have to move my gear, it's going to be an absolute nightmare; I might have to stop.'
Taking into account the businesses the McAllisters deal with, including chandlers, fuel merchants and even suppliers of things like the gloves the fishermen wear, Hughie fears this decision could have a knock-on effect for more than just the fishing industry.
'There must be 10 or 15 businesses that our family is supporting,' he said. 'That's a lot of families as well as our own.
'This is a fishing community and this decision has basically shut the industry down. All we want to do is go and fish sustainably and support our families.
'What happens if it gets extended next year? We could go bankrupt as we've got nothing in our reserves because we used it all during the Covid pandemic, with people being off sick, and the weather has been horrendous.'
He added that he wants to be upbeat about the industry and he is keen to encourage younger people to take up the profession.
'Lots of our young folk are moving away and we want them here,' he said, 'because if there are no young folk, there will be no old folk; it'll be a ghost town.
'I'm quite willing for anybody who has any doubt about the way we work to come out and see what we do. They can see first-hand what we take and what gets returned to the water – alive.
'I feel extremely betrayed by this decision.'
Campbeltown skipper Tommy Finn, chairman of the Clyde Fishermen's Association (CFA), told the Courier this week that he felt 'humiliated' by the announcement, as he too had championed the closure being put in place, with exemptions, more than two decades ago.
'It was voluntary to begin with and then it became statutory,' he said, 'and now it has turned out to be the thing that could put a lot of boats out of business.
'We're the only fishing association or group in probably Europe, but certainly the UK, that has a weekend ban in place – a voluntary ban that we asked for ourselves.
'It's a complete curfew from midnight on Friday to midnight on Sunday, so already that's 52 weekends, so 104 days of the year, that we protect all the grounds. Throw another 11 weeks on top of that, and you're really reducing your opportunities.
'And we've worked with the government to get Marine Protected Areas in place, so we've lost a lot of grounds to that too.
'Coming on the back of the two years that we've just had, with Brexit and Covid, we were slowly finding our feet and this has completely wiped them from under us.'
In an official statement as CFA chairman, Tommy said he was 'shocked to the core' by the decision and the impact it could have on not only the fishing industry but also the wider community.
He said: 'We can't understand the lack of communication with our small-scale fishing communities, or indeed the families and businesses they support, not only around the Clyde but in wider Scotland, Northern Ireland and the EU.
'Perhaps we could understand the decision if there were clear, balanced and genuine environmental benefits, but we haven't seen the science or the rationale to justify this action as proportionate.
'We could have proposed selectivity options which would have achieved similar aims and allowed fishing to continue – this is sensibly the approach taken in the Irish Sea – but there has been no dialogue on any options or solutions.'
Speaking to the Courier, Tommy added: 'The Clyde fleet is unique in having the lowest observed by-catch [discards] of cod in Europe. We were observed to have less than one per cent discards and, of that, only a point of a percentage was cod.
'There's really nothing scientific behind this, it's all political.'
The CFA was due to meet with Cabinet Secretary Mairi Gougeon yesterday (Thursday) afternoon.
Tommy told the Courier he would be pushing for a 12-month delay on the complete ban to allow a proper scientific assessment of stocks to be carried out.
He said: 'It may be that when that's complete, we won't have a case – it might be quite clear that the area needs to be closed to everybody and, if so, we'll accept that, if it's based on proper scientific evidence.'