Campbeltown Grammar School – Statement from Argyll and Bute Council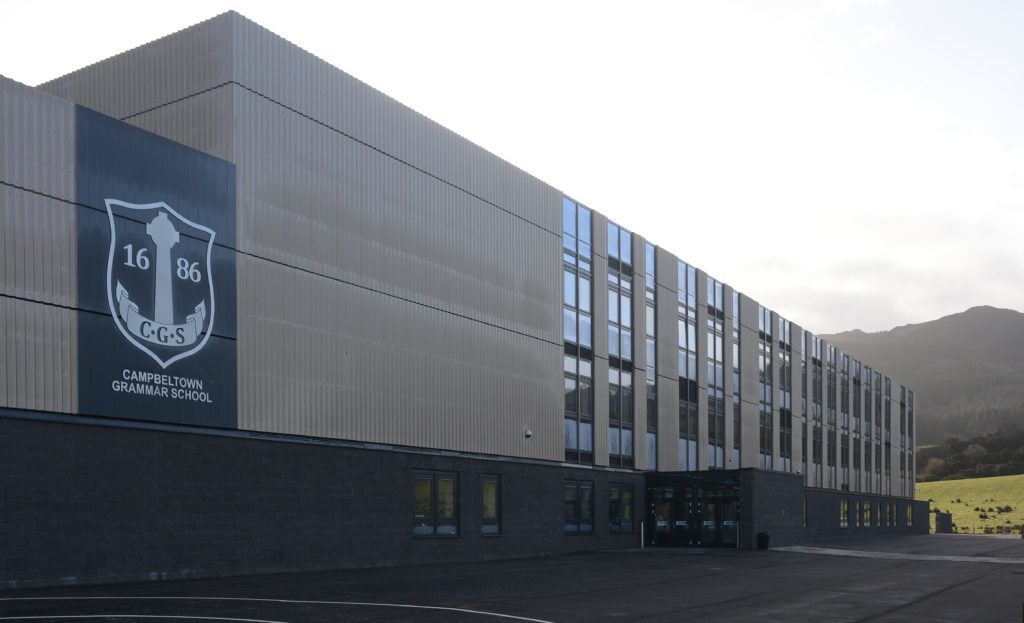 Want to read more?
We value our content and access to our full site is only available on subscription. Your subscription entitles you to 7-day-a-week access to our website, plus a full digital copy of that week's paper to read on your pc/mac or mobile device In addition your subscription includes access to digital archive copies from 2006 onwards.
Problems logging in and require
technical support?
Click here
Subscribe Now
Campbeltown Grammar School (CGS) was inspected in 2018 by HM Inspectors (HMI) and provided with a number of areas for improvement agreed with both the school and Argyll and Bute Council.
There was a further visit to the school by HMI about the steps the school had taken to improve in particular areas that had been identified in the original inspection, and included the work of the Learning Centre.
As a result, HM Inspectors we were able to find out about the progress the school had made and how well the improvements were supporting young people's learning and
achievements. Progress was outlined in a further letter provided by HMI in January 2020 which noted the following: The HT continues to demonstrate his commitment to improvement and in so doing is taking account of the actions identified by HMI and working to overtake these. In relation to the actions noted, the school has achieved the following:
● Refreshed its vision, values and aims and is continuing to involve young
people, parents, and staff and partner agencies more purposefully for
example, through the establishment of parental working groups.
● Refined and simplified the school improvement plan priorities providing clear
guidance for all key stakeholders and ensuring a focus on the improvement
agenda set by HMI.
● Focused on improving learners' experiences by having a sharper focus on the
quality of learning and teaching and the development of a consistent
approach throughout the school.
● Introduced the CGS Charter to promote school values and positive behaviour
among young people.
● Introduced a more streamlined approach to tracking progress in the Broad
General Education (BGE) which is resulting in improved tracking and
monitoring at this stage. All teachers have received training in data analysis at
Senior Phase which is supporting self-evaluation.
● Continued to encourage the involvement of key stakeholders in evaluating the
strengths of the school and identifying areas for improvement. Ensured every
member of staff is an active member of one of the School Improvement
Groups.
● Development of a clearer strategic direction to promote young people's
wellbeing led by the relevant School Improvement Groups and supported by
colleagues from Education Scotland. Health and wellbeing was a key focus
during school closure when live lessons were offered to all pupils every
morning with S6 buddies joining classes to support younger learners and help
with weekly tasks.
● Introduced a new curriculum framework which has provided young people with increased opportunities to gain National Qualifications i.e. young people in S4 to S6 can now take six courses instead of five. This led to a significant increase in the overall number of National Certificates achieved in session 2019/20. The number of candidates achieving Higher A-C increased from 97 to 124 and the number achieving A-C at National 5 increased from 225 to 326.
Performance data shows improving trends in both qualifications and positive destinations reflecting further progress with improvement priorities.
The following table outlines performance data for National 5, Higher and Advanced
Higher qualifications. It compares Campbeltown Grammar school outcomes with
Argyll and Bute and National outcomes. For each qualification level there is an
increase in attainment from 2018/19 to 2019/20 which can be partly attributed to the
new curriculum structure. Studying six National 5 courses greatly improves the
likelihood of being able to pursue five Highers in S5, or into S6.
Diet Year Course CGS AandB National
2020 NAT 5 89.32% 91.45% 88.90%
2019 NAT 5 72.58% 79.43% 78.20%
2018 NAT 5 78.28% 79.86% 77.40%
2020 Higher 83.78% 90.45% 89.20%
2019 Higher 67.36% 73.19% 74.80%
2018 Higher 74.21% 78.79% 76.80%
2020 Advanced Higher 93.33% 95.70% 93.10%
2019 Advanced Higher 80.00% 75.68% 79.40%
2018 Advanced Higher 66.67% 81.90% 80.50%
SQA data for Session 2020-21 will be released in August 2021 for each school.
Campbeltown Grammar School has a strong performance record in positive and
sustained destinations, one of the four main priorities for education. In 2020, 92 percent of young people leaving school were in a positive destination. The impact of Covid 19 both locally and nationally on employment accounts for the 8 percent of young people leaving CGS without a positive destination.
● 42% entered employment
● 8% entered Further Education
● 40% entered Higher Education
● 2% entered Training.
The Education Service continues to monitor and track the progress of improvement
areas with Campbeltown Grammar School to ensure progress continues to be made.
From September 2020 onwards seven engagement visits took place with the school by
Central Officers in relation to the Action Plan for improvement arising from the
inspection. Two of these visits included Education Scotland colleagues who worked
remotely with the CGS senior leadership team and Central Officers on recovery and
improvement on the Action Plan. The school is fully staffed for Session 2021/22 with
a full time equivalent of 33 staff.
A key ambition of Curriculum for Excellence is that schools are encouraged to consider the best and most flexible progression routes for their pupils within the senior phase.
This means that schools and local authorities make use of the flexibility they now have in designing learning, teaching and assessment arrangements (including the number of courses learners typically follow at each year in the Senior Phase). The number and range of courses undertaken in S4, S5 or S6 is a matter for schools, local authorities, parents and young people to decide, taking into account young people's individual needs.
With this in mind the national advice is that schools should plan for young people to progress smoothly to following anything between six and eight qualification courses from S4 onwards, with certification over a mix of one or two years, as appropriate to their individual needs.
For example, during S4, learners may be studying for some qualifications which will result in presentation at the end of S4. They may equally continue studying over two years in some subjects until the end of S5 before being presented for a qualification. The same may apply across S5 and S6, with qualifications being taken over one or two years.
Progression pathways for young people within the senior phase will include a range of courses such as national qualifications, college courses, life skills, work experience and apprenticeships.
When Curriculum for Excellence was first implemented young people and parents were consulted on the number of subjects at individual school level and on any subsequent changes introduced at a further point. Currently within Argyll and Bute schools, senior phase options for national qualifications range between 6 and 8 in S4 (National 4 and National 5) and narrow to 5 in S5/6 (Higher and Advanced Higher qualifications).
An independent review of Curriculum for Excellence has been conducted and reported upon by the Organisation for Economic Co-operation and Development (OECD). The Scottish Government (SG) has initially accepted the report's recommendations and will work with practitioners, learners, parents and other key stakeholders to co-design a detailed implementation plan, to be published by early September 2021.
The implementation plan will set out the roles and responsibilities of all involved in delivering improvements, and the indicators to be used to measure progress and undertake systematic reviews of implementation.
The report can be accessed using the following link:
https://www.oecd.org/education/scotland-s-curriculum-for-excellence-bf624417-
en.htm
The Service will continue to ensure that the quality of learning and teaching and curriculum means that our young people experience progression pathways that support them to attain and achieve and secure a positive destination to be successful in life. We will respond to the SG implementation plan once published to deliver further improvements.