Letters, June 4 2021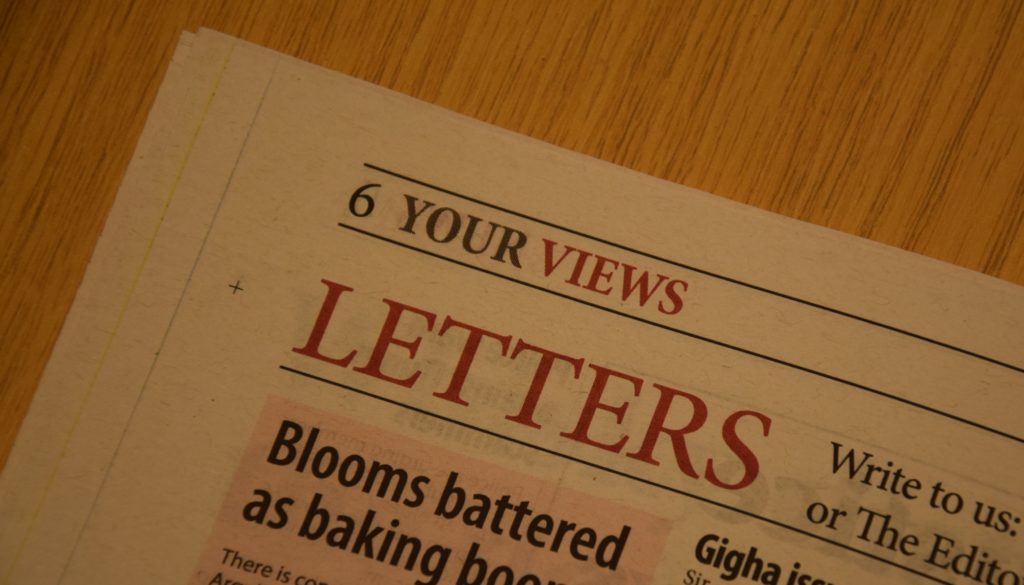 Want to read more?
We value our content and access to our full site is only available on subscription. Your subscription entitles you to 7-day-a-week access to our website, plus a full digital copy of that week's paper to read on your pc/mac or mobile device In addition your subscription includes access to digital archive copies from 2006 onwards.
Subscribe Now
Town centre improvements looking good
I have just returned to Aberdeen from a visit to my hometown of Campbeltown. What a lovely surprise to see how good the town centre is looking.
There are so many independent shops and they all have something interesting to offer.
I was so pleased to see how the shopfronts have all been painted and look so well-kept.
Congratulations to everyone who has made this possible. You have done a wonderful job.
Kintyre is beautiful and the town centre has caught up with it.
Maureen Hamilton, Aberdeen.
School league table situation is complex
I think it is an over-simplification to point the finger at Campbeltown Grammar School (CGS) as being a possible reason for people not wanting to move to Campbeltown.
As I am sure you are aware, there were no national exams last year, and grades were based on teachers' assessments. One might wonder how it could be that CGS dropped roughly 100 places in the league table, while Lochgilphead High School suddenly jumped 100 places.
How did the processes compare between the two schools, and how could that have been possible? The issue certainly bears looking into.
In addition, it seems like the Courier and local politicians are awfully quick to blame the school and teachers, while ignoring aspects such as local culture, where education sometimes seems to be less valued, where many children seem to be just biding their time until they can leave at 16 and work on the farm or on the fishing boat or in the local Tesco, what have you.
Roughly 95 to 96 per cent of CGS pupils leave for a 'positive destination', but for about a third of those, that destination is employment, rather than higher education or further training.
Pupils who have no intention of seeking higher or further education are not motivated to engage in or work towards higher qualifications.
Teachers cannot force students to take higher classes and higher exams, cannot force students to engage with learning, cannot force parents to engage and to encourage their children to engage academically.
As an example, in the follow-up inspection report last year, the report stated: 'Staff continue to make improvements to the curriculum in the broad general education (BGE) from S1 to S3.
'The school has increased the range of learner pathways and qualifications that young people can choose in the senior phase. Young people in S4 to S6 can now take six courses instead of five.
'Young people can choose from a range of Skills for Work programmes, and Foundation Apprenticeships provided by Argyll College and the Argyll and Bute Learning and Development Team, but uptake has been limited.'
As the old saying goes, you can lead a horse to water…
The situation is much more complex than is being presented in your paper and elsewhere and this does a disservice to the school, teachers and school management, and by extension to pupils, parents and the community, by simply assuming that the drop in the league table is due solely to a 'failing' school.
Name and address supplied.
School's league table position must be acknowledged
The publication in the Courier on Friday May 21 with regards the position of Campbeltown Grammar School (CGS) within the league tables came for me as a sigh of relief that somebody else was on the same page.
We cannot defend where CGS sits within the factual results, it's the result of a lack of hard work from pupils and staff, and the influence from parents.
The Scottish Government publishes an annual breakdown of pupils' attainment for which we have poor results and require inspectorate visits.
The league table cannot be defended but acknowledged. Leadership of the school and particularly the council would benefit more if they actually illustrated 'yes, there is a problem' and we can fix it.  Perhaps benchmark with a preforming school close by.
Defending the situation with alternative measures that are perhaps encouraging for certain individuals is not the way forward.
As a parent who wishes to have the option to allow their child to choose further education, we need to start getting the grades to grant entrance.
The results are a summary of many years of learning and not simply the year the child was assessed.
All years should be considered important, particularly the early years, so that they can achieve highly with determination and effort.
There is an enormous amount of pressure at home to find alternative methods via tutors for homework and purchasing of materials due to non-provisions within the school.
S1 to S3 should be receiving homework in academic subjects and getting it marked in order to improve study skills.
For the last three years I have been campaigning within the parent council to ban mobile phones within the school. It has been proved in other Scottish schools that this ban gives best results.
Education leaders should be considering a change in policy across all Scottish state schools. Teachers will face fierce resistance in the classroom, however, should we not be acting in their best interests?
There would be focus on study, better communication and behaviour issues would disappear.
How welcome would it be to see pupils chatting and laughing with each other instead of heads down scrolling through screens?
Covid has clearly had an impact on education this year but every school is in the same boat.
Everybody is experiencing a global pandemic, but some like to treat it as wrong Covid and not long Covid.
Susan Craig, Campbeltown, parent of third year pupil.
Irresponsible littering should not be tolerated
I have been contacted by many of my constituents from across Islay about the ongoing littering problem at Donald Caskie Square in Bowmore.
Unfortunately this matter has been dragging on for months now and I have discussed this at length with Islay Community Council, council colleagues,  businesses and the head teacher of Islay High School.
It's clear to me that patience is running out and that something needs to be done.
If police had a presence in the square, particularly over the lunch time period, this would help to prevent a lot of the littering that has been taking place.
I have also been getting complaints about Morrison Court in Bowmore.
It goes without saying that this is a minority of people who are not bothering to use the nearby bins but sadly this is something that affects everyone.
A litter-strewn location looks dirty and unsightly, making it a less pleasant environment for those who live in or use it.
This irresponsible behaviour should not be tolerated.
Councillor Alastair Redman, Kintyre and the Islands. 
Benefits of play for our children
As we approach summer with hopefully fewer restrictions, we can start to make plans about how we will spend time with family and friends.
Following the challenging year we have experienced we could all do with a bit more play in our lives.
Play is a hugely important part of childhood and has a whole host of benefits, including improving physical and mental health and wellbeing.
Throughout this pandemic, children have had to deal with so many difficult challenges; some having to stay in unsafe homes and many living with families who are struggling with health worries and financial issues.
Children have told Childline that they have struggled to cope and their mental health has suffered as a result.
It doesn't matter how people choose to play this Childhood Day (June 11), whether it's organising a sponsored kickabout in the park, a game of cards, a musical get-together or an online gaming tournament, we just want as many as possible playing and raising money to help us keep children safe.
We look forward to hearing how your readers plan to support the NSPCC and children across Scotland this Childhood Day.
To find out more and download a fundraising pack, visit www.nspcc.org.uk/childhoodday or search online for NSPCC Childhood Day.
Paul Cockram, head of fundraising, NSPCC Scotland.