Letters, April 2 2021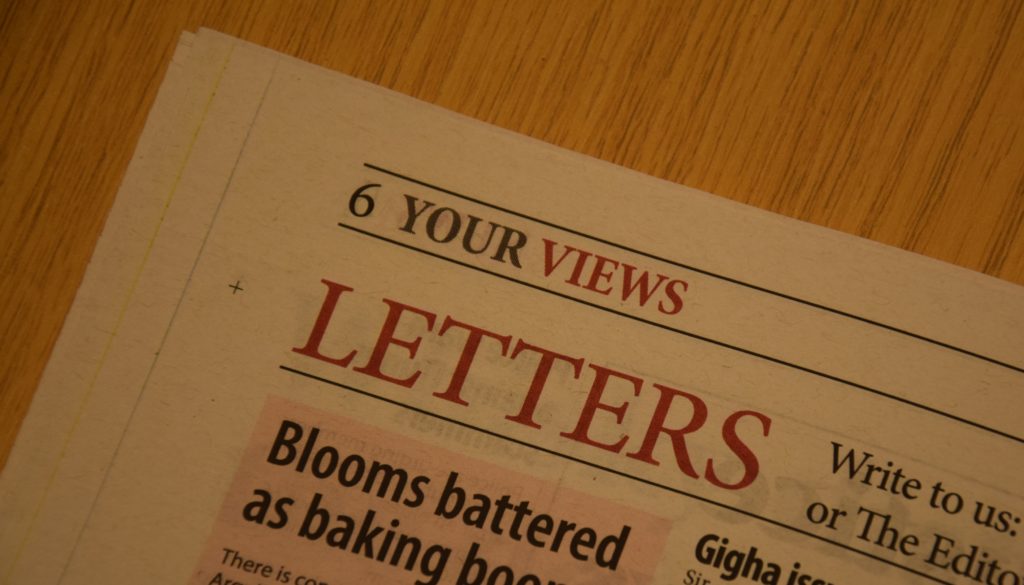 Want to read more?
We value our content and access to our full site is only available on subscription. Your subscription entitles you to 7-day-a-week access to our website, plus a full digital copy of that week's paper to read on your pc/mac or mobile device In addition your subscription includes access to digital archive copies from 2006 onwards.
Subscribe Now
Recycling decision short-sighted
Across Argyll and Bute, the response of communities as a result of Covid-19 to support vulnerable people has been amazing. It underlines the fact that it is communities who know best what is best for them.
Argyll and Bute Council was at the centre of ensuring our resilience teams got support and Scottish Government funding dispersed quickly and efficiently.
That is why I find the decision of the Tory/Lib Dem/Independent ruling administration to remove the recycling service from Kintyre Recycling Ltd (KRL) and taking it in-house as short-sighted. And giving them only six months notice is disgraceful.
KRL has provided a reliable service for the community since 2006 and given employment opportunities to people with barriers to work. It has a committed board and management team who have diversified the projects it does to ensure sustainability. But this decision leaves a gaping hole in its business plan and a workforce unsure if they will still have jobs.
There is a projected increase in cost of £210,000 to supply recycling bins across Kintyre. But this does not take account of the possible social and welfare cost of the impact on the workforce. This is yet another blow to the community already hammered by unemployment.
I urge the council to work closely with KRL to find a solution that ensures that all of the KRL employees at risk of redundancy are found suitable employment and that this valuable organisation can continue to employ vulnerable people providing services from which everyone benefits.
Jenni M Minto, prospective parliamentary candidate, Argyll and Bute SNP.
Urgent action needed at Rest
In 2012, the SNP published a coloured map showing options for the route of the A83 at the Rest and Be Thankful. Nine years later, all they have done is colour in the map slightly differently. We are no further forward.
Whoever is in government after the election must stump up the money needed to construct a road protected from landslides. This must be done a lot quicker than the 10 years the SNP say it will take them.
Without urgent action, many businesses in Argyll will not survive.
Councillor Alan Reid, prospective parliamentary candidate, Liberal Democrats.
Shoddy road signs
Across the Kintyre and the Islands ward I continue to receive complaints about the rather shoddy condition of road signs.
In some cases the signs are faded and covered in dirt and in many other cases they are falling to pieces.
One example of this is the road signs above the footpath outside of Port Ellen Primary School on Islay and sadly there are many other examples.
In my opinion, in the future, Argyll and Bute Council must be more diligent in maintaining our signs. Road signs help regulate traffic, provide crucial visual guidance and give drivers important preview especially during night-time conditions.
I will continue to campaign for more frequent road sign maintenance for every corner of my ward.
Councillor Alastair Redman, Kintyre and the Islands.
Reward NHS workers
Following the Scottish Government's pay offer of four per cent across the board for all NHS workers, Unite will ballot its members on the offer over the next few weeks.
Unite represents workers in every pay band across the entire NHS structure and recognises that while this offer will put money into the pockets of our members, any monthly pay uplift will vary considerably between individuals. For this reason, Unite will be putting this offer to our members without recommendation.
The offer includes an opportunity to revisit any settlement including an intention by the Scottish Government to allocate additional funding through Barnett Consequentials. Unite will demand that any additional payment made to the Scottish Government by Westminster through this formula, is passed on to our members.
Workers across the NHS have been described as 'heroic' in what has been an exceptionally challenging year.
Now is the time to reward those workers with the pay uplift they deserve, not just for their work during the Covid pandemic, but also for the pay cuts they have endured through years of austerity.
For Unite, other pay potential remains on the table in the form of additional Barnett Consequentials and we will pursue any additional pay that is intended for our members through further negotiation with any future Scottish Government.
James O'Connell, Unite regional officer for Scotland.
Fancy a simpler life?
I work for a television company called Five Mile Films and we are making a new documentary series this year for Channel 4.
We are looking for people to apply to take part who want to live a simpler life. The filming will take place over a number of months this year in rural Britain.
The idea behind the series is about saying goodbye to smartphones, Zoom calls, social media – all the distractions and pressures of normal life – to go and live a simpler life, experience the 'good life' fantasy and think about what our modern life and its multitude of choices has really given us. We will explore the idea of whether, in fact, less is more.
We are looking for people of all ages to apply; families, couples, single people – to take time out from their normal life and step into a different way of living.
If any of your readers are interested in finding out more, they should email simplelife@fivemilefilms.co.uk, telling us briefly why you would like to live a simpler life.
Kathryn Burke, casting producer, Five Mile Films, Bristol.
Please support people with sight-loss
Since the UK was first officially plunged into lockdown, we have lived through what is probably the most extraordinary year in most people's lifetimes.
Blind and partially sighted people have had to adjust like everyone else to the daily challenges this has created. Thankfully, there's now light at the end of the tunnel. But some ongoing measures could continue to be barriers to their independence and confidence.
People with sight-loss can sometimes find it difficult to judge space, so we're asking everyone to maintain their own distance, be patient and be helpful.
Just getting out and about can be more hazardous for those without sight. The government's 'Spaces for People' initiative has already transformed many of our streets and thoroughfares.
We must take care that this doesn't inadvertently create new obstacles for those with disabilities.
The Covid crisis has given all of us a sense of uncertainty and vulnerability, of what it's like to depend more on others. So let's make one positive legacy of this crisis a resolve to make sure we re-emerge as a society in which no one is left at the margins.
James Adams, director, Royal National Institute of Blind People (RNIB) Scotland.
More Kintyre memories
Following publication of his poem 'On Distant Shore' in last week's Courier, Jim McRobert, originally from Campbeltown but now living in Musselburgh, has sent in another one of his self-penned verses. This one is titled 'Dunaverty'.
Bloody was that rock on that wild Kintyre shore,
Bloody was that rock by the sea.
Murder under a white flag shown,
On the rock of Dun-av-er-tee.
When we were children, we played in its shadow,
Pail and spade at the water's edge.
Never did we know of its tragic secrets,
While hunting for crabs by a rocky ledge.
Retreated in vain to hide in their castle,
Chased by an army with murder in mind,
In trust they were safe in that seashore fortress,
Not from an army whose lust was pure blind.
Often we climbed on its grassy slopes,
Feeling that moment of breeze on our face,
Searching the beach as true knights of conquest,
Dreams of the past were often the case.
Offering the flag after three days of siege,
Expecting their leaders to die by the sword,
Yielding to promises quickly given,
Died to a man in the words of our Lord.
If only we'd known of the murder and slaughter,
Not even a child was allowed to survive,
Locals were threatened to erase the memory,
Not one to be seen with a tear in their eye.
Bloody was the beach on that wild Kintyre shore,
Bloody was that rock by the sea,
Slaughter to a man in the name of the Lord,
Died for the right to be free.
Jim McRobert, Musselburgh.