Letters, January 29 2021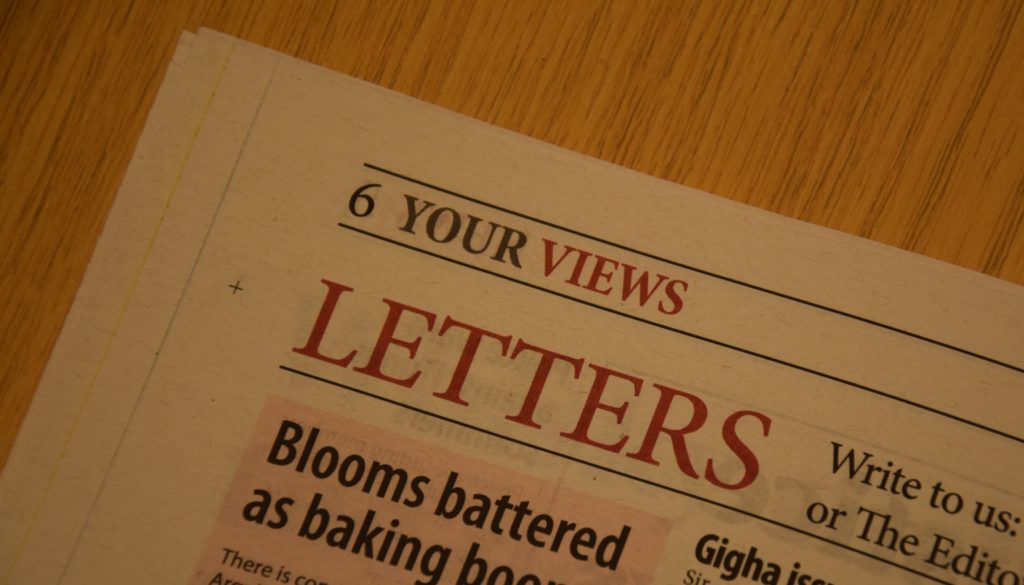 Want to read more?
We value our content and access to our full site is only available on subscription. Your subscription entitles you to 7-day-a-week access to our website, plus a full digital copy of that week's paper to read on your pc/mac or mobile device In addition your subscription includes access to digital archive copies from 2006 onwards.
Subscribe Now
EU is not to blame for free trade barriers
By Jingo, Keith Abendroth has some brass neck in blaming the catastrophe facing Scottish fishing businesses on the dastardly EU. His solution is even more batty.
Driven by resentment and sepia-tinted post-Empire English nationalism, cloaked in talk of Britain and the UK, the Tories have jemmied the UK out of the world's largest and most successful single market.
Having placed the UK as a 'third country' outside the EU, alongside Somalia and Kazakhstan, it is not the EU to blame for the barriers to free trade, Mr Abendroth, but the UK government and those who parroted the cruel myths of Brexiteer 'sunny uplands'.
Mr Abendroth suggests that the fishing industry merely sells into the domestic market as a replacement to EU trade, without thought to the timescales required to repurpose supply lines and create a viable home market – even if it could be done fishing businesses would already be bankrupt.
Scotland's economy and the living standards and opportunities of Scots have been thrown under the wheels of England's red Brexit bus. Never have the consequences of permitting Westminster to rule our country been more stark.
But the time is coming when Scotland will have the historic opportunity to regain the huge benefits of EU membership and become a normal, thriving, independent state at the heart of Europe. There is an empty seat at the top table in Europe – and it won't be empty for long.
Ron Wilson, secretary, Kintyre SNP.
Our fishermen deserve better
Remember the closing stages of the Brexit negotiations? Boris Johnson pretended he was holding out to get the best deal for fishermen. In the end he agreed a deal that the Scottish Fishermen's Federation described as 'desperately poor' and 'the worst of both worlds'.
Fishermen are restricted to catch fewer fish in most key species. Lorries carrying stocks that have been caught were left to sit at Larkhall – unable to penetrate the new fog of bureaucracy. Scottish fishermen are forced to land the fish they can catch in Denmark – grim news for Scottish fish processors.
Instead of trying to fix the problem, Tory Minister Jacob Rees-Mogg says the fish are happier to be British. Of course they are – the fishermen aren't catching them.
The Tories must sort out this mess they have created. Our fishermen and fish processing workers deserve better than silly remarks about happy fish.
Councillor Alan Reid, Cowal ward.
Could part of the problem be in the supply chain?
Keith Abendroth is spot on with his call for the fishing industry in Campbeltown to supply the home market.
During my three-and-a-half years in the town it was possible to buy directly from the boat on occasion but it was nigh on impossible to buy fresh live lobster in the town's fish shop.
When I was new to the town (and no-one had seen me before), I experienced some shocking service at the some of the small retailers who I always endeavour to support. It is easier to get a full range of seafood and fish in Peebles, about 75 miles from the sea, which has an excellent fish shop supplied from Eyemouth on the East Coast.
Much Welsh shellfish is sent by air to Europe. I often wondered why lorries trundled from Campbeltown across the Rest and Be Thankful and all the way to the English Channel crossings.
Much of the 21st century supply chain is a mystery to me. For instance, much Pacific wild salmon is processed in China before being exported to the UK.  It is an excellent alternative to the farmed version at roughly the same price.
Surely a town with an airport could develop a sea product freight service or is it simply down to volume, weight and cost?
Mark Davey, Peebles.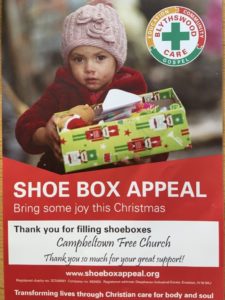 Thank you for filling shoeboxes
Two weeks ago, at Campbeltown Free Church, we received a letter of thanks from Blythswood Care for filling shoeboxes to support the 2020 Shoe Box Appeal.
However, we are aware that many who contributed do not belong to Campbeltown Free Church.
So, through the pages of the Courier, can I thank them for their kindness towards people they have never met but whose lives have been enriched by their generosity?
Dr Rodger M Crooks, Campbeltown Free Church minister.
Lib Dem leaflets lose their way
Like many, many other residents in Argyll and Bute I have received through the post a bizarre leaflet from the Liberal Democrats. Bizarre, because it promotes a candidate standing in a completely different seat – Caithness, Sutherland and Ross.
Meanwhile, the good folk of Caithness, Sutherland and Ross have been equally mystified as to why the hapless Lib Dems have sent them leaflets promoting a candidate in Argyll and Bute!
The Lib Dems have certainly lost their way when it comes to their policy on the EU – but it seems that they've lost their way in Scotland too.
Les Wilson, Islay.
Help support our RAF veterans
Earlier this month the Prime Minister announced a third national lockdown. Although necessary, these measures mean many of our veterans will be facing the next several weeks – or months – completely alone.
And while the vaccine rollout out across the country provides some hope, social isolation and loneliness poses a real threat to our elderly this winter, among them many former RAF personnel and their partners supported by the fund.
To help combat this, last year the RAF Benevolent Fund introduced a weekly Check and Chat service to support members of the RAF Family experiencing loneliness. I speak to one such gentleman every Tuesday. He lives alone and spent much of 2020 totally isolated and, for him, this service truly is a lifeline. We chat about what he's been up to, what he's cooking for tea, to his time in the RAF and often I'm the only person he will speak to for days.
The fund also organises weekly telephone friendship groups, provides access to a listening and counselling service, relationship counselling support, and an online wellbeing portal to help support emotional wellbeing amongst the veteran community.
Throughout the pandemic, many of us have learnt more about our neighbours and local community. That's why we are calling on the people of Scotland to consider whether they know any RAF veterans, or their spouses or widows, who may be experiencing loneliness.
To refer someone to the RAF Benevolent Fund, please visit rafbf.org or call 0300 102 1919.
Air Vice-Marshal Chris Elliot, chief executive, RAF Benevolent Fund.