Letters, November 6 2020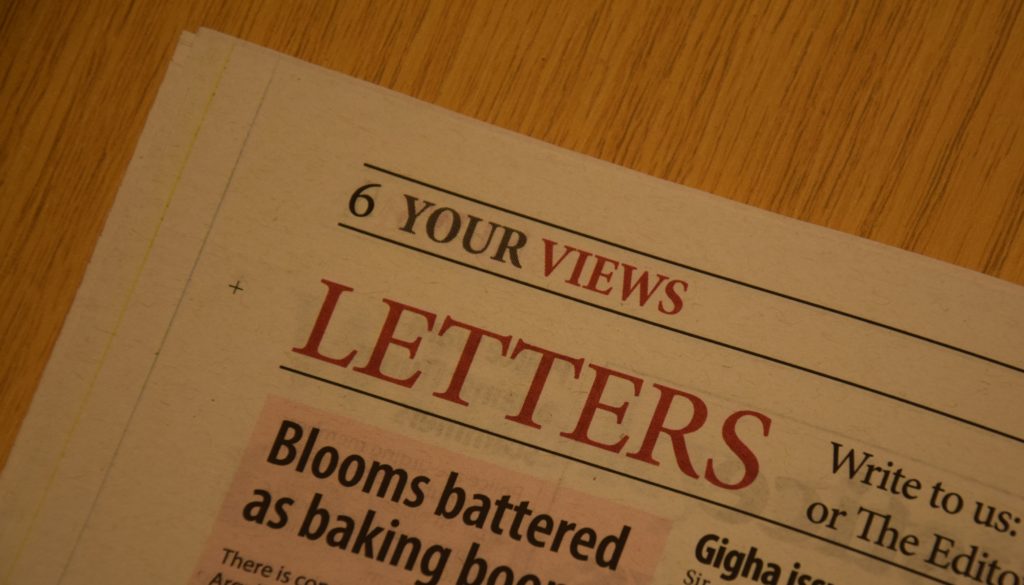 Want to read more?
We value our content and access to our full site is only available on subscription. Your subscription entitles you to 7-day-a-week access to our website, plus a full digital copy of that week's paper to read on your pc/mac or mobile device In addition your subscription includes access to digital archive copies from 2006 onwards.
Subscribe Now
Fish farm planning application views
Following on from recent comments in the local press, I would like to provide an update about MOWI's application for a new salmon farm in Kilbrannan Sound.
At the time of writing, there are 84 letters of objection and 20 of support. Of those 20, six are employees of MOWI and a further seven are employees of companies who directly benefit from contracts with MOWI. Only five would appear to have no direct personal financial interest in the application.
Several of these letters are clearly copied from a template, perhaps instructed by their employer.
It is hard for the 84 objectors, who are probably mostly local people or regular visitors, to compete with the money that MOWI is prepared to put behind its increasingly desperate attempts to force yet another fish farm on the unwilling local communities.
Clearly almost the only people who want a salmon farm are those who stand to make personal financial gain from it. Can there be a clearer indication of how undesirable farms are?
I suggest local people who have the long-term interests of the region at heart – as opposed to the short-term economic interests that MOWI has – make their views known to the council, referring to planning application 20/01345/MFF.
Use your own words and make clear that you are not employed by any salmon farming company.
Can I ask councillors, when considering the application, to attend to the views of the local people you represent, rather than overseas companies?
Ed Tyler, Scottish Green Party, Argyll and Bute Branch.
A83 Glen Croe option
It was very interesting to read that Argyll and Bute Council favours the Glen Croe option running adjacent to A83 to be a permanent solution to this ongoing threat.
I really do hope this means using the forestry road on the opposite side of the valley 'adjacent' to current A83. This really does seem to be the ideal solution.
Yes, it would no doubt cost a lot but the alternatives mean an ongoing struggle with no really sound final solution to this very serious problem.
Argyll and Bute residents/businesses have been amazingly patient over the years but we all live with the knowledge that the current road is so unsafe and dangerous, and the day could easily come that we hear of a fatal accident due to yet another landslide.
Argyll has always been a very beautiful, special part of Scotland. What a boost it would be to the economy for visitors to come here with no threat to their lives as they travel in.
The expense of completing this major new road would be more than justified in a prosperous new outlook for our beloved Argyll.
Scotland has boasted great engineers in its past history, let's trust there are still those out there capable of the task.
Moreen Moller, Clachan.
Course will help people come to terms with sight loss
A free online confidence-building course to help people in Argyll and Bute find their lives again after losing sight will be available later this month.
Living with Sight Loss is being run by the charity RNIB Scotland over four Thursdays starting on November 26 until December 17. It will take place from 10.30am to 11.30am.
If you're living with sight loss in Argyll and Bute, this course can help provide the practical and emotional support you need to face the future with confidence.
Living with Sight Loss offers a combination of facilitated online sessions and talks about what help and support is available and how it can be accessed. A range of different themes will be covered, including mobility and daily living, emotional support and wellbeing, assistive technology, eye health, peer support and leisure time.
As well as an opportunity for people with sight loss to connect with each other, family and friends are also invited to join and participate.
The course is part of RNIB Scotland's Need to Talk initiative, funded by the European Union's Interreg programme to support people in peripheral communities. As well as Argyll and Bute, the course is available to people in Arran, Ayrshire, Cumbrae, Dumfries and Galloway, Lochaber, Skye and Lochalsh and the Western Isles.
If you would like to refer someone, or find out more information about the Living with Sight Loss course, please contact me, Richard, on telephone at 028 9033 4144 or by emailing needtotalk@rnib.org.uk
Richard Craig, RNIB confidence building co-ordinator.
Remember pets on November 5
With fireworks season upon us, Blue Cross is urging people to consider the devastating effect they can have on pets and people and to be considerate of their neighbours this Bonfire Night.
Some 25 per cent of UK households are planning to have fireworks at home this year due to the cancellation of organised events. We know only too well the fear and distress fireworks cause to pets, with 70 per cent of owners reporting their pets being affected – trembling, being physically sick and being too frightened to leave the house for days after.
We would urge people to let their know neighbours know if they're planning to have fireworks and also to use low-noise fireworks and sparklers this year where possible for the sake of pets and people who may struggle with them across the country.
Claire Stallard, animal behaviourist, Blue Cross.
Key working animals of the developing world need our support
Key workers in Britain are rightly receiving the recognition and appreciation they deserve, with NHS staff, care workers and delivery drivers among the professions that have been praised for their heroic efforts this year.
But, some of the most essential workers in developing countries worldwide are continually overlooked and neglected. Working animals play a key role in the world's poorest communities and help provide a livelihood for more than half a billion people.
An estimated 200 million working horses, donkeys, camels and elephants are relied upon to transport goods, food, water and firewood. By doing the jobs of trucks, tractors and taxis, this invisible workforce ensures the survival of poverty-stricken families.
However, these animals often endure appalling conditions, with poor nutrition and no access to veterinary treatment when they are sick or injured.
At the animal charity the Society for the Protection of Animals Abroad (SPANA), we believe that working animals overseas should receive the respect, compassion and vital veterinary care they desperately need.
On International Working Animal Day (November 19), please find out how you can show your support for these hardworking animals by visiting www.spana.org/iwad.
Geoffrey Dennis, chief executive, SPANA.
Thank you to occupational therapists
This week marks Occupational Therapy Week (November 2 to 8) and I want to personally thank these unsung heroes who make a difference to so many lives.
As someone living with a terminal illness, I am a day patient at the Marie Curie Edinburgh hospice and I never imagined occupational therapists would play a vital role in my life.
Whether it has been attending relevant classes to ease conditions, such as fatigue, anxiety and breathlessness, to discovering what allowances I was entitled to and taking part in the various day therapy sessions on offer, they have also made sure I can continue living independently at home too.
Their constant support and advice has kept me safe in these unprecedented times and without occupational therapists, my life – like so many others – would be very different to what it is today.
Thank you.
Helen Hogg, Midlothian.