Down Memory Lane, October 30 2020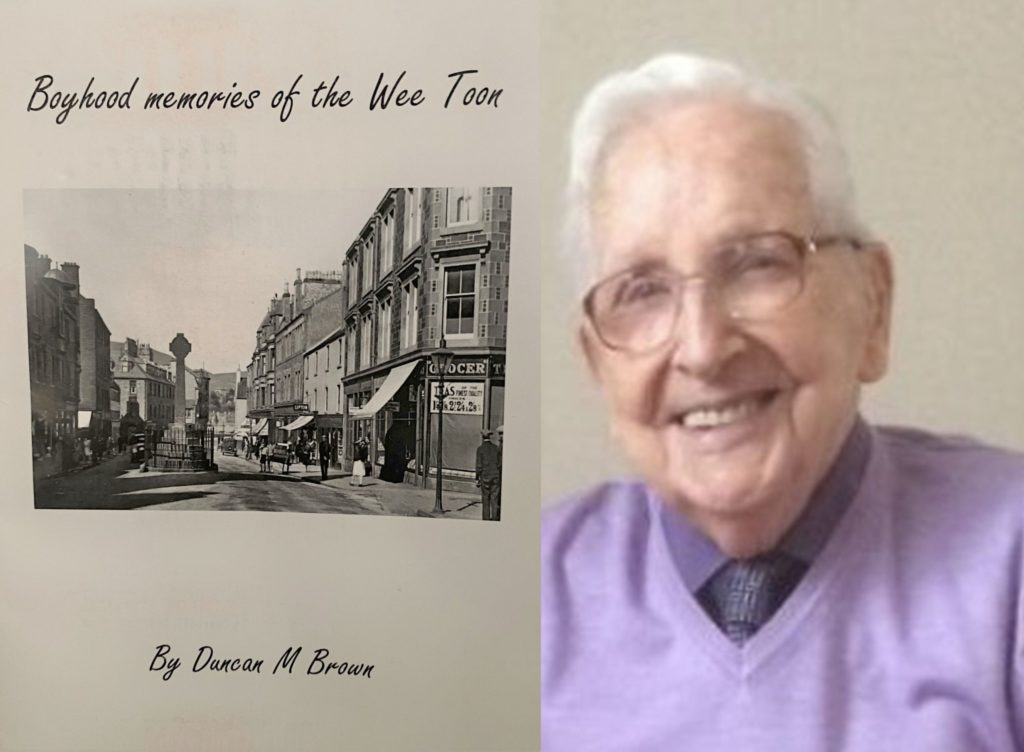 Want to read more?
We value our content and access to our full site is only available on subscription. Your subscription entitles you to 7-day-a-week access to our website, plus a full digital copy of that week's paper to read on your pc/mac or mobile device In addition your subscription includes access to digital archive copies from 2006 onwards.
Subscribe Now
Duncan Brown's boyhood memories of the Wee Toon
The family of the late Duncan Brown has given the Courier permission to serialise his booklet, Boyhood Memories of the Wee Toon, in our Down Memory Lane pages.
The booklet was printed and published just a couple of weeks before the former toy-shop proprietor died on August 11, aged 95.
This week, we conclude the series by sharing the booklet's final chapter, titled Nicknames.
Nicknames
Unlike today, people living in the Wee Toon knew everybody else – many of them by their nickname. Some of these names have an obvious derivation, such as the three brothers from Bolgam Street – 'Hopeless', 'Useless' and 'Helpless'. One name was 'Whispering Grass' and I have often wondered where that came from…or 'Katie Biscuit Hips' or 'Mary the Blister'.
I remember when I was in the Wee Grammar Primary School, a cart load of coal, pulled by a Clydesdale horse, arrived in the playground. The contents were then dumped in a corner ready to be taken to the boiler room. This task was carried out by Katie Biscuit Hips with the use of a shovel and wheel-barrow.
She was accompanied by her partner, 'Dougie the Far—' (a windy man). He didn't lift a finger to help her, but he did provide 'Music While You Work' by playing on his mouth-organ while Katie shovelled coal and pushed her wheel-barrow. I don't know if she appreciated the music.
There was an old man in the town called James Hall, but he was always referred to as: 'Auld Jamie Ha, nae soap at a.'
'Epple Susie' was a nice lady, originally from Glasgow, but one of her daughters married a local fisherman, Mr Robertson, and they have lots of descendants in the town today. Every summer the fair came to Kinloch Park and Susie was there too with her barrow loaded with all types of fruit. Susie was always very popular.
'Juba' and his wife, Mary the Blister, had a small room and kitchen in Burnside Street. A few young fishermen, with time on their hands and tins of black paint available, came along one night and thought it was funny to apply the paint to their windows. It was said that Juba and Mary slept for three days and nights. Not really funny at all!
Another very eccentric character was Davy Foister. I think his name was actually Foster, but he liked to pronounce it his own way. He had gone to the USA on one occasion, hoping to marry a rancher's daughter from the 'Black Hills of Kadota' – his words! But on his arrival, entry was refused on the grounds that he was an undesirable alien. Not surprising!
Davy must have had a great desire to be a cowboy and he carried, (in his vivid imagination!) two pistols in their imaginary holsters. Somebody would shout: 'Go for your guns, Davy,' and he would immediately 'draw' and 'fire'.
He lived in Park Square and he was known to answer a knock at the door by getting on his bike (in his sitting room) and cycling down the lobby to open his door. I said he was eccentric, but I don't think that word really covers Davy!
'Purba' was the name given to Archie Mustarde, our best known football referee. He was a small man but a strict disciplinarian and not afraid to stand up to narky players who might be twice his size.
When awarding something like a penalty, he made very dramatic signals, bending down and pointing with an out-stretched arm.
'Sailor Jack' was actually a woman but looked and dressed like a man. I think she generally worked at the Old Quay, but she was around before my time.
Another character was Geordie Muir, a simple soul who probably never had much education. He was making a small purchase in my shop one day and complained that the government had cut back his money. Then he made a threat which must have had everybody in Whitehall worried! 'Weel if there's another war, they needna think I'm gonnie fight for em.' Geordie would be in his 60s at that time.
His favourite expression was: 'Yer better oot!' Perhaps that's why he spent hours wandering the streets of Campbeltown.
We were lucky in having the Picture House, (or as we knew it, 'The Wee Pictures') founded in May 1913 and later the Rex Cinema which opened in July 1939. I can remember seeing some silent films (but not their titles) where the late Ritchie Greig provided music on his piano which was situated down at the front of the screen.
When I was about seven, I saw and heard my first talking picture which was called Trader Horn. It was about Africa and I was thrilled to see all the wild animals. I don't remember the plot – just the title!
Another Wee Pictures memory is when my mother and auntie were going to see Greta Garbo in Anna Karenina and I nagged my way into going with them. I must have been about ten and I had no idea I was going to see a classic period drama – very boring for a boy of my age!
At the end of the film, Anna Karenina jumped in front of a moving train and apparently I amused the other patrons by saying in a loud whisper: 'It's a pity she didn't do that at the beginning of the film.'
That experience didn't put me off going to the Pictures and on the following Saturday, I was back at the matinee watching my favourite cowboy, Hopalong Cassidy!
The famous Sir Harry Lauder once appeared in a sell-out concert in Campbeltown. I remember my elderly uncle admitting to me much later that he was one of a number of young men who risked life and limb by climbing on the roof of the Victoria Hall to hear and see Sir Harry perform. So they were daft in those days too!
Many of the teachers in the Grammar School had nicknames, such as Auld Nicky, Bushems, Captain Bligh, Kubla Khan, Teefy, Wee Lizzie, Wee Mickey, Moonman, Big Tam, Woody etc.
Mr Gemmell taught in the Milknowe School and was known as Bunkum. His pupils used to recite: 'Bunkum is a holy man, he goes to church on Sunday. He prays to God to give him strength to beat the boys on Monday.'
Our art teacher was Miss Smith, known by all as Wee Dolly. She had an unusual way of dealing with any boy guilty of a misdemeanour; he was ordered to go down to the rector's office, not to enter but to stand on his door-mat!
If Mr Downie, the rector, came out for any reason and learned that Miss Smith had sent the boy there, he would take him into the office and give him the strap. But, if the bell rang for a change of period, the boy was free to leave unpunished. That was justice for you!
For many years, fishing played a very big part in the employment of local men. At times in the '30s, fishing was very good and most of the owners managed to buy modern boats. Of course there were times when it was not so good – in what was known as 'Slack'!
I remember one of the old skiffs which was still working here. That is an old type of boat with no wheelhouse. It was called the Fairy Queen and was owned by old Mr McNeill.
The modern fleet consisted, I think, of about 66 boats and most of the fishing was done in the Kilbrannan Sound and Loch Fyne, but they would go further afield to the north, the Minches, etc, and in the summer to the Isle of Man.
For more information, read Angus Martin's or Freddie Gillies's books, who both have a wide knowledge on the subject. Most of the skippers operated a 'share' system of paying their crews and a lot of them used to meet in the Royal Café to receive their 'dividends'.
Some of the best known fishermen at that time were the Meenans, Robertsons, Martins, Durnins, McDonalds, Conleys, Gillieses, Finns, Warehams, Langs, etc.
Robert Robertson, known as the 'Hoodie' (from a film shown at the Picture House of the 'Hooded Terror') owned four boats. They were called the Kittiwake, the Kestrel, the Kingbird and the Kingfisher. Lots of other boats were named after birds, such as the Falcon and the Frigate Bird.
In the early '30s, no one gave a thought to conservation of fish, sad to say, and huge amounts of herring were landed here. Because of this, experienced squads of woman gutters and packers were brought from the east coast to gut the herring, cure them with salt and pack them in barrels.
They worked at long tables both at the Old Quay and alongside the inner harbour at Hall Street. It was fascinating watching these very skilled women working at high speed. A number of them married local men and their descendants still live here.
I remember seeing a large Russian factory ship moored in the loch. It came here because of the fishing boom. After purchasing the herring, it was taken aboard the ship and processed there. For some reason, these ships were called Klondykers. Somebody said it was because the influx of those herring was like the gold rush in the USA.
With hindsight now, we realise the need for conservation, but unfortunately not all countries think this way.
I heard recently that since the Chinese have over-fished their own waters, they are looking to the Caribbean to exploit other countries' stocks. According to Simon Reeve, a travel journalist of the BBC, the same thing is happening around the coast of Africa.
More voices need to be heard about sustainable fishing. If we vacuum up all the oceans now, there will be no fish for generations to come. Perhaps we need to listen more closely to Sir David Attenborough, who has been warning us for years about conservation. I feel optimistic that there are more listeners than deniers – I hope so anyway!
Campbeltown has and always will have a special place in my heart. I consider it a privilege to have grown up and lived in what is affectionately known as the 'Wee Toon'.