Letters, September 25 2020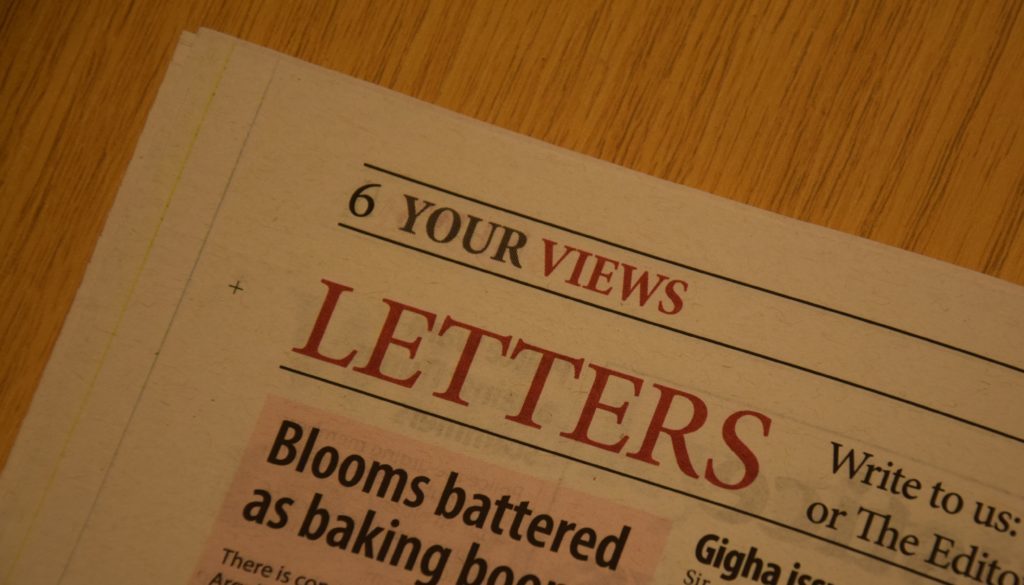 Want to read more?
We value our content  and access to our full site is  only available on subscription. Your subscription entitles you to 7-day-a-week access to our website, plus a full digital copy of that week's paper to read on your pc/mac or mobile device In addition your subscription includes access to digital archive copies from 2006 onwards
Subscribe Now
Overflowing public bins
I have been receiving many emails and phone calls from concerned constituents on the Isle of Islay about our local public bins that are overflowing with rubbish.
There are concerns that household waste bags are being placed in the public bins which is exacerbating the problem.
I have asked the council if they would consider increasing the number of uplifts, particularly as the island is quite busy just now.
I also have concerns that with the hotter weather we have been having, the piling up of rubbish could become a public health issue.
I will continue to lobby our council for a solution to this ongoing problem.
Councillor Alastair Redman, Kintyre and the Islands.
Pandemic support needed
The report 'The Impact of Covid-19 on the Highlands and Islands' warns that the economy of the region could decrease by as much as £2.6 billion this year due to the impact of Covid-19 on businesses and jobs.
And the figures presented by Highlands and Islands Enterprise in the document also suggest that unemployment increased faster in the region than the rest of Scotland.
This report makes grim reading and should make both the Scottish and UK governments sit up and pay attention to the serious impact that Covid-19 has and is having on the Highlands and Islands, one of the worst hit areas in the country economically.
With increased and rapidly growing unemployment due to the nature of the region's economy which relies heavily on tourism and outdoor recreation, it's clear that the economy of the Highlands and Islands will need a shot in the arm if we are to turn around the worrying trend of job losses and economic downturn.
The Scottish and UK governments must work together to invest in the Highlands and Islands to protect jobs, livelihoods and businesses and the future economic prosperity of the region.
If we want to see the region survive and thrive after Covid-19, we need to ensure the right support is in place to allow us to build back better and support an economy that works for everyone.
Rhoda Grant, Highlands and Islands Scottish Labour MSP.
Carers, make your voices heard
It is estimated that there could now be as many as 1.1 million people in Scotland caring unpaid for a loved one who is older, disabled, or seriously ill during the coronavirus pandemic.
We know that it has been a particularly difficult time for family carers, with the majority having to provide more care during the pandemic – on average 10 additional hours a week. With many face-to-face day services still closed or limited because of COVID-19, some families are caring round-the-clock without a break.
It's thanks to carers telling Carers Scotland us about their personal experiences that we are able to explain to politicians and policy makers the challenges they are facing six months on from the coronavirus outbreak, as we head into winter.
By filling in our survey 'Caring Behind Closed Doors: six months on' (on the Carers UK website) unpaid carers in Scotland can help inform the UK's most comprehensive study into experiences of looking after a loved one during the coronavirus crisis.
With a Scottish Government plan for social care reform currently in the making, it has never been more important for unpaid carers to share their experiences.
Fill in the survey at www.surveymonkey.co.uk/r/CJ89NCH web page.
Simon Hodgson, director, Carers Scotland
No animal should suffer in silence
Britain is renowned as a nation of animal lovers – and many people would go to any length to ensure their precious pets are healthy and happy. Thankfully, access to veterinary care when our companions are sick or injured is usually quick and easy – and there are more than 25,000 vets working up and down the country.
Sadly, it's a very different story for animals in developing countries, including working animals. A severe shortage of vet services means too many animals must endure pain and suffering without the vital care they need. In Zimbabwe, for instance, there are only around 340 vets serving the entire country.
SPANA, the Society for the Protection of Animals Abroad, believes that all animals deserve the right to high quality veterinary care, including working horses, donkeys, elephants and camels, which transport goods, people and water in the world's poorest communities.
Our vets are often their only hope, providing free treatment that simply wouldn't be available otherwise.
This World Animal Day (October 4), we're asking for your support to ensure that no animal has to suffer in silence.
Please visit www.spana.org/worldanimalday and help us provide working animals overseas with the same care and compassion as our own much-loved pets here in Britain.
Geoffrey Dennis, chief executive, SPANA.
UK trade deal with Japan
The trade deal the UK Government has announced with Japan has been as heralded the UK's 'first major trade deal as an independent trading nation', a symbol of the clout of 'global Britain'.
The full details have not yet been released, but it's already clear the agreement largely replicates the contents of the tariff-reducing deal that the European Union concluded with Japan in 2018.
For UK firms trading with Japan this is not some kind of surge forward but simply largely replicating what was already in place.
And while the government announcement highlights potential gains to the UK economy of £1.5 billion over the long term, that represents less than 0.1 per cent of our economy.
Moreover, this is a gain relative to a future in which the UK had no trade deal with Japan, not relative to the UK's current position as a participant in the EU-Japan deal.
Britain's total trade with Japan in 2018 amounted to £29 billion, while our trade with the rest of the European Union, by contrast, was £650 billion. So as a trading partner the EU is 20 times more important.
When one considers the 0.1 per cent of GDP support from this Japan trade deal, don't forget that the UK Government estimate that the long-term damage of a no deal Brexit would be around 7.5 per cent of GDP.
With the disastrous events of this week in the EU trade talks, this trade deal with Japan is paltry in economic terms when compared with the looming threat of a no-deal Brexit.
Alex Orr, Edinburgh.
People with diabetes should get free flu jab
Diabetes Scotland is urging everyone with diabetes to take up the offer of a free flu jab. People who are eligible for a flu jab should be contacted in the next few weeks with instructions on how to get their vaccine.
Getting the flu jab is the best way to protect yourself against the flu and reduce your risk of needing to go into hospital – which is even more important this year in light of coronavirus.
If you're living with diabetes, you're more at risk of getting the flu – and if you catch it, you are more at risk of developing serious complications.
Flu can also make your diabetes harder to manage and cause your blood sugar levels to rise dangerously high. This can lead to acute complications, which can often go unrecognised, and can even be fatal.
That's why it's essential that everyone at high risk of serious illness from flu gets vaccinated as soon as possible – especially as it can take up to two weeks for it to be effective.
For more information about diabetes and flu, please visit the Diabetes UK website at www.diabetes.org.uk/seasonal-flu
Angela Mitchell, national director, Diabetes Scotland.