Letters, September 18 2020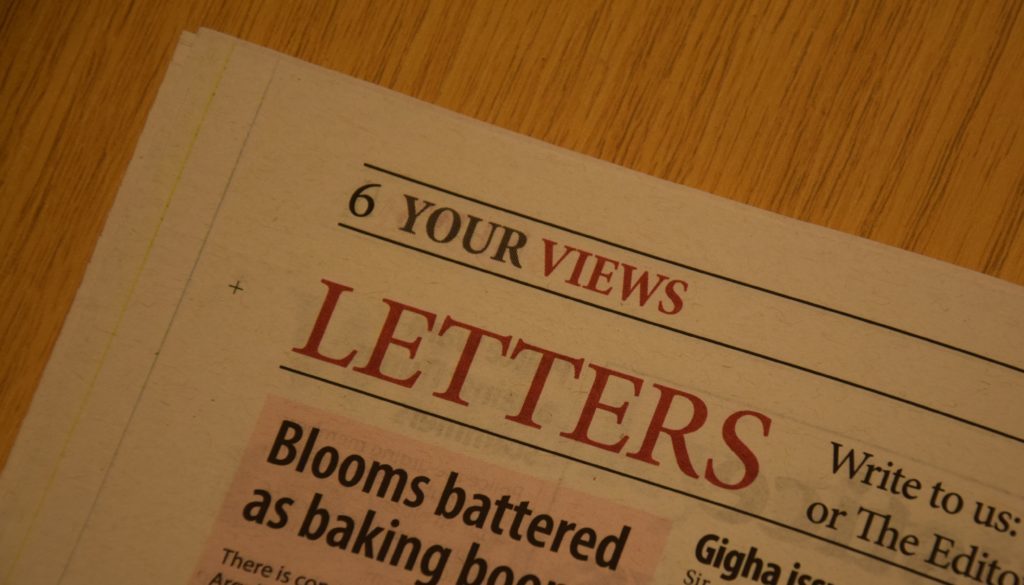 Want to read more?
We value our content  and access to our full site is  only available on subscription. Your subscription entitles you to 7-day-a-week access to our website, plus a full digital copy of that week's paper to read on your pc/mac or mobile device In addition your subscription includes access to digital archive copies from 2006 onwards
Subscribe Now
Water off without warning
I write this letter in condemnation of Scottish Water.
At approximately 10am one day the week before last, the water supply went off in Carradale without warning. When we tried to ring Scottish Water, we were advised to go to Twitter, Facebook or the company's website.
An alternative number was said so quickly that there was no chance of writing it down, unless we listened to the whole message again.
Many of us do not have computers, so what then?
Carradale village predominantly consists of residents of retirement age. In my household we have four adults, one is 91 and suffers with advanced dementia, Parkinson's disease and diabetes.
In our vicinity we have several people requiring carers, some up to four times a day – how were they going to get a hot drink with no access to water?
Would the bosses in the offices go without a hot drink for eight to 10 hours?
I rest my case.
Bill Bidmead, Carradale.
Need for more benches and bins
During a visit to the Isle of Islay recently I realised how many benches and bins are available there, not only in villages but also dotted about the more remote countryside in lay-bys and such like.
Furthermore, many of these benches and picnic tables had their own bins right beside them.
As the new normal means people would often rather take-away food and sit outside to eat it, the number of benches and bins on Islay is great for this purpose, and I realised that we are lacking both in many areas of Campbeltown and Kintyre.
Not only would it allow for more social distancing but it would mean more people could support food take-away businesses – which must be struggling at the moment – and dispose of their litter appropriately.
Is this something the council or perhaps community councils could look into?
Name and address supplied.
Scottish fiscal deficit overstated
Once again the GERS figures (Government Expenditure and Revenue Scotland) have been released. It estimates the revenue raised in Scotland and the goods and services provided for the benefit of Scotland.
Just how accurate are these figures?
It should be noted that Scottish GDP is not determinable with any accuracy because much of the data required to calculate it such as taxes, imports, exports, investment, savings and more besides, is simply not reliably available for Scotland and is instead based on estimates provided from London.
Scottish VAT is declared on the whole of UK VAT returns: no-one knows how much is due for Scotland. GERS compares tax paid in Scotland with spend for Scotland. That means the following are ignored: Scottish income taxed outside Scotland such as rents, interest, profits, royalties and maybe more, all of which can be significant; tax paid on providing the benefits for people in Scotland when that spend occurred outside Scotland; tax paid on the multiplier benefit in the spend outside Scotland nonetheless charged to Scotland.
It allocates £3.4 billion for Scotland's share of military spending as part of the UK. Compare this with Ireland who, in October 2019, announced that its defence budget for 2020 would just exceed €1 billion.
We are also allocated the following, over which we have no say:
£4.5 billion to service Westminster debt
£1.8 billion for UK 'service costs'
£966 million for 'international services'
The result is a system designed to overstate the Scottish fiscal deficit.
GERS tells us nothing about how an independent Scotland would fare or even run its affairs.
It does, however, tell us how Westminster-linked organisations would like us to be seen.
Elaine Mackenzie, Tarbert.
Horrified by latest social media craze
Animal welfare charity Blue Cross is horrified about the latest social media craze where pet owners are sharing videos and images of themselves getting up close to their pet and surprising them when they are asleep or removing their food when eating.
Using hashtags like '#invadeyourdogspersonalspace' and '#invadeyourpetsspace' there have been over half a million views of these posts so far.
Examples we've seen include making loud noises next to sleeping pets to film how they react, getting into a pets' bed when they are sleeping and waking them suddenly when face-to-face.
While we are sure the intent is innocent fun, it is vital pet owners understand that this is a potentially dangerous activity and extremely traumatic and stressful for most pets who may go on to develop serious behaviour problems.
Claire Stallard, animal behaviourist, Blue Cross.
Beware of Test and Protect scams
Age Scotland is warning older people to look out for Test and Protect scams, after reports of despicable fraudsters conning older people into paying for tests or handing over their financial information.
Nicola Sturgeon warned on Tuesday in her daily briefing that cold callers have attempted to cash in on the crisis by telling people they need to pay for a Covid-19 test. She said they have been posing as contact tracers and trying to persuade people to divulge their bank details or other personal information on the phone.
Age Scotland is warning everyone to be aware and learn how to protect themselves and older relatives. We have already worked with the Scottish Government to help ensure the contact tracing scheme is safe and secure and reduce the risk of scams.
It's absolutely disgusting that anyone would try to use the Test and Protect scheme to exploit people and con them out of their money. However unfortunately there will always be heartless scammers who prey on the most vulnerable in our society.
Not only are older people more at risk of serious illness from coronavirus and extremely anxious about it, but they are disproportionately likely to be targeted by fraudsters and fall victim to this type of crime. It's all too easy for someone to let their defences down and be talked into paying for a test or divulging financial information.
We're grateful that the Scottish Government has taken on board our feedback in making the Test and Protect scheme as safe and secure as possible, with an option to call back if people suspect they are being scammed. We would urge everyone to be aware of how it works, and warn any older relatives to look out for scams.
Genuine contact tracers will never ask for payment or any financial or confidential details.
If you have any concerns, you can always hang up and call back on the official number – 0800 030 8012 – ideally from another phone or after waiting to make sure the line is clear.
Brian Sloan, chief executive, Age Scotland.