Letters, September 4 2020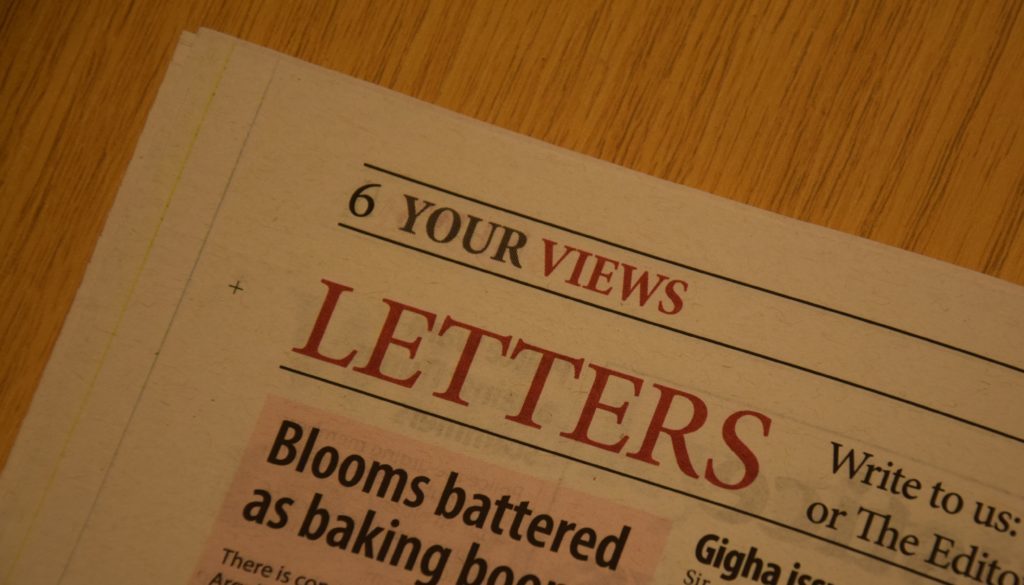 Want to read more?
We value our content  and access to our full site is  only available on subscription. Your subscription entitles you to 7-day-a-week access to our website, plus a full digital copy of that week's paper to read on your pc/mac or mobile device In addition your subscription includes access to digital archive copies from 2006 onwards
Subscribe Now
Escaped salmon a threat to native fish
Anyone reading your report 'Anchor system fails as Storm Ellen hits Carradale salmon farm' about the unauthorised relocation of and latest escape from Mowi's farm could be forgiven for reaching the conclusion the company and its employees were the heroes of the hour.
The fact is Mowi has failed in its basic duty to contain its stock of salmon of Norwegian origin – alien fish to Scottish waters – with potentially serious environmental consequences.
Recent events make a mockery of the claim in the Courier's ingratiating article in June on the Carradale farm that new 'robust anchoring' makes 'the pens more stable and better suited to withstand the most extreme weather'.
When it comes to escapes, the Carradale farm has form having 'lost' 16,000 fish in 2015. Mowi's recent record elsewhere in the region is dismal; 73,000 salmon escaped from its farm off Colonsay in January this year.
Mowi's statement that it 'continues to engage with local and national wild fisheries groups to monitor and assess the presence or absence of salmonid genetic introgression' is meaningless.
The genie is well and truly out of the bottle and inevitably many of the escaped fish will enter rivers to breed with wild salmon, thus threatening the vital genetic integrity of our already depleted native wild salmon strains.
Mowi has just been fined $6.7 million by the environmental agency in Chile following a major escape there in 2018. However, such is the lax system of regulation and enforcement of breaches on salmon farms in Scotland, the Carradale escape will likely prompt nothing more serious than a friendly advisory letter to the company from our laissez-faire authorities.
Andrew Graham-Stewart, Director of Salmon and Trout Conservation Scotland, Sutherland.
Toilets are essential
It was with utter disbelief that I read your article on Argyll and Bute council's plans to close toilets, Friday August 28.
Argyll is a major tourist area with many shops and attractions relying on visitors to sustain their businesses. This provides jobs and income to Argyll and Bute Council from business rates and council tax.
Everyone needs access to a toilet and, during this pandemic, many toilets in pubs, restaurants and cafes are unavailable for visitors' use.
Toilets are not a luxury, they are essential and are one of the ways the council can help the tourism industry. I have worked in this industry for many years and access to public toilets was the number one requirement when organising tours.
Lack of facilities causes stress for visitors, especially those with children, or those of more mature years. It is even worse if someone has a medical condition.
Rather than considering closing toilets, Argyll and Bute Council should be trying to increase the number of toilets in the area.
John Bakes, Southend.
Cemetery is not a camp site
On a visit to Keil Cemetery at Southend to put flowers on my relatives' graves last week, I was furious to find two campervans parked outside.
There was no one there to confront but they were all set up for the night with chairs outside, a dog bed and gas bottles.
This is so wrong. Firstly, they should not be parked outside a cemetery for their fun and, secondly, they could be bringing Covid to the village.
How can we stop them parking right outside a sacred area?
Name and address supplied.
The Rest – an open letter to Michael Matheson MSP, Minister of Transport
Dear Mr Matheson,
As a resident of Minard for the last 22 years, I am well used to recurrent landslides affecting the A83, in particular the Rest and Be Thankful.
I am directly affected as I work in Helensburgh as an NHS worker and I have family members, neighbours, friends and colleagues living in Mid Argyll and Kintyre who also work beyond Arrochar. The ongoing issues with the Rest are causing significant stress and hardship.
In recent weeks the uncertainty over which route will be open – Old Military Road (OMR) or the detour via Loch Lomond and Dalmally – is causing a huge amount of stress and logistic challenges. All these roads are vital routes that carry freight/timber/vital supplies as well as the route for emergency vehicles and hospital transport – never mind the regular day-to-day business access for people living in Argyll. Many of us require to attend medical appointments in Paisley, Glasgow or the Vale of Leven. A  lengthy detour that is potentially also subject to closure makes for a harrowing journey.
It is a massive concern to me and residents in Mid Argyll and Kintyre that this main route is potentially dangerous and increasingly unreliable with the worsening weather we are experiencing in recent years.
It strikes me as shocking and dilitory on the part of our Scottish Goverment that it has not yet made headway in securing a permanent solution to provide a safe reliable route that provides vital access for Argyll residents to the central belt. The issues with road closures at short notice have caused stress for those accessing hospital appointments, getting to work, getting vital supplies, travelling further afield, travelling home – necessitating longer journey times, missed appointments, bus transport delays never mind the additional costs in fuel/wear and tear on vehicles plus fatigue and stress causing hardship in having to factor in additional times.
Argyll relies on visitors to our beautiful region and this unsafe route is negatively impacting on the income to the area these tourists and visitors should be bringing. The journey from Inveraray to Arrochar normally takes 30 to 35 minutes. The OMR is adding up to 25 minutes to that. The Dalmally detour takes about 70 minutes so adds around 35 minutes. With increased traffic and potential traffic queues, the actual time is often far in excess of an extra 35 minutes – often more like 50 minutes.
I have a neighbour who recently started working as a firefighter in Dumbarton. When there is uncertainty of the OMR being open, he leaves at 4am to ensure he arrives for his shift. Driving home after a 12 hour shift is often not possible as a result of fatigue, so he stays overnight away from his family. This situation is occurring for many who live and work on opposite sides of the Rest.
I ask that the Scottish Government and ministers stop dragging their heels and respect the rights of the people of Argyll to have a safe transport network by implementing a immediate plan to make a safe artery route in and out of Argyll instead of continuing to waste cash and put people's lives at risk with this temporary not-fit-for purpose patch-up job.
Liz Taylor-Feeney, NHS physiotherapist, Minard.