W.Cs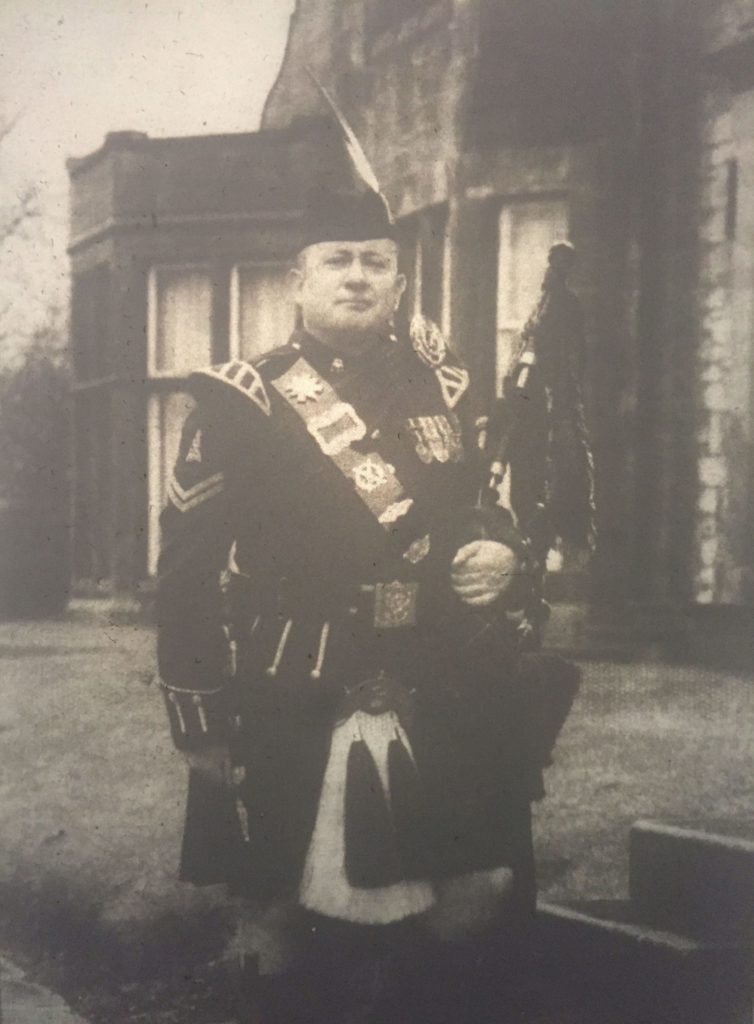 Want to read more?
We value our content  and access to our full site is  only available on subscription. Your subscription entitles you to 7-day-a-week access to our website, plus a full digital copy of that week's paper to read on your pc/mac or mobile device In addition your subscription includes access to digital archive copies from 2006 onwards
Subscribe Now
TEN YEARS AGO
Friday March 12, 2010
Neil's sovereign honour
Last time he was on the front page of The Courier, Neil McNaughton was in his desert kit toting a rifle.
Here he is in dress uniform, pipes in hand, as befits a piper who has had the honour of playing for HM the Queen.
Corporal McNaughton, 40, along with 11 other pipers, all instructors or students at the Army School of Bagpipe Music and Highland Drumming, played at the state banquet during the visit of the President of the Republic of South Africa, Jacob Zuma, at Buckingham Palace.
It is the first time that the piping and drumming school has been given the honour to be the Sovereign's Pipers at a state banquet.
When he is not attached to the piping and drumming school Corporal McNaughton serves with The Highlanders, 4th Battalion The Royal Regiment of Scotland (Four Scots), which is based in Fallingbostel, Germany. Since joining up he has served in Bosnia, Iraq, Germany, USA, Canada and Australia.
Neil is a former pupil of Campbeltown Grammar School and his mum and dad, Elizabeth and Neil senior, still live in Campbeltown.
TWENTY-FIVE YEARS AGO
Friday March 17, 1995
Campbeltown's Caroline McFadyen and Susie Bell tell of their time…
All at sea on the Eye of the Wind
We didn't quite know what we were getting ourselves into when we joined the Kintyre TYC over a year ago.
Back then there seemed no hope of raising enough money to send us all away on voyages. But since then we have been involved in various fundraising events, from car washes to applying for grants. This enabled us to send eight hard-working members on sail training voyages on board 'Eye of the Wind'.
These members made us envious with their stories on life on the Eye and so we were ecstatic when we learned we were going for a four-week voyage across the Atlantic from Tenerife to Barbados and some of the other Caribbean islands.
The whole voyage was amazing, and it felt like a dream despite the fact that it was very hard work as can be seen from our now 'muscle-clad' bodies and these diary extracts:
Tuesday December 13 – Coming off the plane we were met by a friendly crew member who took us to the ship. I was one of the few who didn't go to see the 'Eye of the Wind' when it came to Campbeltown last year. My first impressions were that it was amazing, very civilised and the crew were very friendly. I knew I was going to have a great time.
Wednesday December 14 – Got up at 7am and had breakfast before going to the market in Santa Cruz to buy 100 breakfast rolls and some fruit. We left Tenerife about 11am. Sea was rough and people (not us, of course) were throwing up all over the place! Hands were really sore tonight – have been hauling lines, belaying them and coiling down all day. I went aloft with one of the crew tonight to overhaul the buntlines – it was dark, I was terrified, but loved it!
Friday December 16 – Up at 3.30am for morning watch. Thunder and lightning for most of the watch and some really heavy showers. Evening watch was much the same. It was terrifying, and the crew didn't help by telling us tales of people being struck! We slept just about all day – a symptom of sea sickness – though I haven't actually been sick.
Sunday December 18 – I'm covered in bruises, my hands are blistered and chapped, I've got foot cracks under most of my toes (very painful business), I'm wheezy and I've got a cold – I love it here! I really need a shower.
FIFTY YEARS AGO
Thursday March 12, 1970
Sad sea-song: Where have all the scallops gone?
There are now no Campbeltown fishing boats engaged in scallop fishing. The last boat changed over last week to prawn trawling.
One local fisherman explained the reason for the collapse of the scallop fishery: – 'There's just nothing out there to catch.'
All the boats – with the exception of the Brighter Morn and the Kirsteen Anne, who are seine-netting – are trawling for prawns.
Three local trawlers left for Corsewall Point on Wednesday morning after two Irish boats had brought to Campbeltown market good catches from that area.
Only two pairs of herring ring-netters are working from Carradale. They are Mhari Bhan, Harvest Queen, Shemaron and Amy Harris.
What a wash-out!
Thirty-nine new baths were recorded last year in Campbeltown.
A total of 42 houses were added to the Campbeltown housing register in 1969. Of these, 26 were new Town Council houses; four were new Argyll County Council houses; three were new privately-owned houses arising from the improvement of already existing houses.
On the other hand, 36 houses were removed from the register. Of these, 27 were unfit and were closed; seven were in sub-standard condition and were closed for improvement or conversion.
Another two large houses were converted into smaller houses. There were at the end of last year a total of 2,117 houses in Campbeltown.
At the end of 1969 the total number of W.Cs in the burgh was 2,116 – an increase of 15 on the total for 1968. But there are still 13 tenants sharing W.Cs. This is a decrease of 16 on the previous year's figure. The number of baths in Campbeltown increased by 39 to a total of 1,926.
ONE-HUNDRED YEARS AGO
Saturday March 13, 1920
Argyllshire by-election
The campaign in furtherance of Sir William Sutherland's candidature was conducted with great vigour over the weekend by a number of particularly able speakers.
On Friday evening, Mr James Parker, MP, a Coalition Labour member, spoke in the Victoria Hall at a fairly well attended meeting over which ex-Provost McMurchy presided.
Mr Parker, who began life as a labouring man, and who incidentally remarked that though now a Junior Lord of the Treasury, with £1,000 a year, he still lived in the house which was his home when he had 22s a week, is a lucid and forceful speaker, and his address was listened to with close attention and appreciation. He also addressed meetings at Drumlemble and Carradale.
Captain Elliot, MP for Lanark, who has made an early and effective impression in the House of Commons since he entered it in the beginning of the present Parliament, and who was recently referred to by a Parliamentary correspondent as one of the most promising of the younger members of the House, opened a tour of the southern part of the constituency at Tarbert, and on Saturday made his way down the western seaboard of Kintyre, speaking at Whitehouse, Clachan, Tayinloan, Muasdale, Glenbarr, and Ballochantee.
As the member for an agricultural constituency, Captain Elliot was able to deal with the questions which are of supreme importance to rural people with keen personal knowledge and insight, and his addresses were heard with marked appreciation.
Captain Elliot spoke at the Cattle Market, Campbeltown, on Monday, and again in the Victoria Hall on the same night, when he partnered Mr A. MacCallum Scott, MP for Bridgeton, Glasgow. At this large meeting, at which Colonel Rome presided, the speakers dealt clearly, vigorously and effectively with the questions at present in the forefront of politics, Mr MacCallum Scott being particularly successful in his method of dealing with interrupters.
Meetings were also held at Southend, Drumlemble and Carradale, the above speakers being joined for their work in the outlying parts by Miss Pressley Smith, MBE.
The final rally in the Victoria Hall on Tuesday night (the eve of the poll) brought together a great meeting and the full audience gave the speakers a rousing reception.