FROM OUR FILES, December 20 2019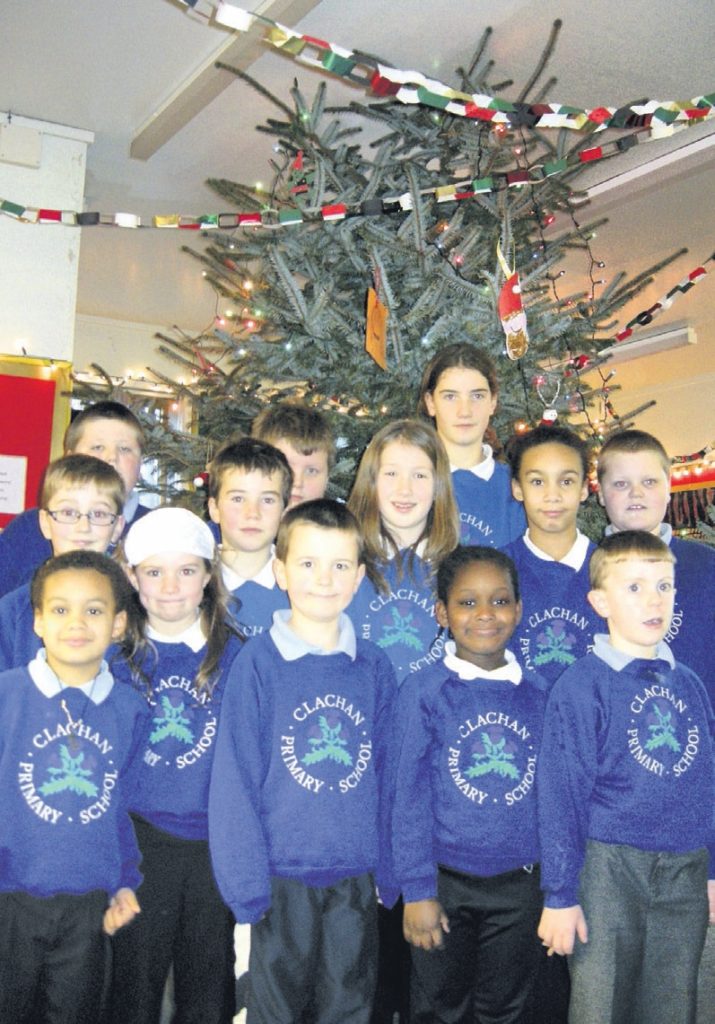 Want to read more?
We value our content  and access to our full site is  only available on subscription. Your subscription entitles you to 7-day-a-week access to our website, plus a full digital copy of that week's paper to read on your pc/mac or mobile device In addition your subscription includes access to digital archive copies from 2006 onwards
Subscribe Now
TEN YEARS AGO
Friday December 18, 2009
Clachan's green Christmas
Clachan Primary School children have a green Christmas tree – not just the colour of the pine needles but the environmentally-friendly way it is being lit.
The school has a wind turbine and solar panel linked to a control panel that shows the children how much electricity is being generated and stored on car batteries.
Usually this electricity is used to charge the school's laptops but now the power is being used to light-up their floor-to-ceiling Christmas tree.
The turbine, panel and equipment have been provided thanks to a grant from the West Kintyre Wind Farm Trust.
Clachan's pupils are enjoying a green Christmas. NO_c51files01
TWENTY-FIVE YEARS AGO
Friday December 23, 1994
Coach chaos!
Kintyre is facing coach chaos according to bus bosses – after an outside contractor snatched major route contracts from under their grasp.
They say they fear that Kintyre communities could be the losers, after Coatbridge operators Ess Bee Coaches moved in. And they have warned there could be local job losses.
However, See Bee this week assured the Courier that the area would receive a 'first-class' service.
Campbeltown-based West Coast Motors has only secured four contracts, for schools, out of 26 under the initiative which will introduce new timetables and routes.
And Henderson Hiring, Tarbert, lost three major contracts – Tarbert to Skipness, Tarbert to Kilberry, and the ferry connection between Claonaig (Arran service) and Kennacraig (to Islay).
West Coast managing director William Craig said: 'It comes as no surprise as the Scottish Passenger Transport Executive (SPTE) have pursued this policy of displacing the local operator in several other areas such as Arran, Bute, Cowal and Mull despite much opposition from the local people, and we are now next on their hit-list.
'It is our view that the changes proposed to the present well-tried and accepted arrangements will lead only to chaos irrespective of who the operator is.
'There will be buses running from early morning to late at night, in some cases to places where they are neither wanted nor needed, in others over roads and streets that are incapable of taking them, and to such complicated timetabling that the public won't have a clue when the bus is coming from or going to.
'It is a very sad day for the community,' he concluded.
Henderson Hiring's Duncan Henderson is concerned about the effect the change will have on rural communities.
'For many years we have had the added role of providing a much-needed social service, delivering such things as papers and medicine, as part of the bus route.
'It's not all just about getting the kids to school or people to the shops, and I hope people will be provided with a reliable service. Time will tell. I just hope they have got their sums right or they have a hell of a fright in store.
'We still have to decide exactly what to do, but there could be very serious consequences. But we are obviously very disappointed at carrying out these requirements all these years without complaint, then losing out like this. We've put in a lot of extra effort.'
Ess Bee Managing Director Brian Smith said this week: 'The service will be first class, as good as, if not better than is available at the moment.
'There will be an operational base in Campbeltown, and we will try to employ locally.'
FIFTY YEARS AGO
Thursday December 18, 1969
Sewage go-ahead given
Campbeltown is to have a new sewage disposal system.
This decision was taken at a special meeting of Campbeltown Town Council on Monday night. It came after representatives of the local industries which discharge their waste effluents into the main sewage system indicated that they would be willing to co-operate in the neutralising of the acids in their effluents.
Without neutralising the acid would prove damaging to the pumps envisaged for the new scheme.
The motion calling on the council to give the go-ahead on the project was made by Dean of Guild William Stevenson, and seconded by Councillor N. S. McCallum, who said: 'I think health comes before money in this respect.'
Fears were expressed about the effect the scheme would have on the rates. Councillor Alastair McKinlay said: 'It might be that in years to come we, as a council, will be blamed for putting the rates up.'
Provost Daniel McKinven said that the efforts made in the past to secure the new sewage system for Campbeltown were 'joint efforts'. The Provost said that the council had 'done this for the good of Campbeltown' and that they would 'see to it' that local labour is employed on the actual scheme.
Mr W. P. Scott, the representative at the meeting of Messrs. Crouch and Hogg, the firm of consulting engineers who will be employed on the project, said that the pumping main would probably be laid along under the Low Askomel road.
Mr Scott commented that the most expensive part of the scheme will be the actual laying of the pipelines.
Hon. Treasurer George Halbert and Town Chamberlain, Mr William B. Allen, calculated that the rates may have to be increased by 3s 3d to cover the cost of the scheme. But Mr Halbert pointed out that the increase may be considerably more.
The final calculation will not be made until Messrs. Crouch and Hogg supply a final figure for the cost of the scheme.
The town will be eligible for a rates support grant.
ONE-HUNDRED YEARS AGO
Saturday December 20, 1919
Highland Parish Church Choir
On Wednesday night the choir of the Highland Parish Church gave a concert in the Kirk Street Hall in aid of the funds of the Women's Guild.
The audience quite filled the hall, and a most enjoyable programme was received with every indication of appreciation.
The choir contributed two-part songs which were rendered tunefully and with fine feeling, and the audience responded with particular warmth.
The vocal solos by members of the choir were all most successfully rendered.
The songs were nicely selected and several singers, heard for the first time, performed with great taste and sweetness.
The soloists were Misses Macalpine, L. Wareham, Lizzie McCallum, F. Hall, and Messrs C. Kelly, W. McClymont, McKendrick, D. Macdougall, jr., Neil McCallum, and Edward Galbraith, the latter contributing Gaelic songs with ability and success.
While all did well, the audience were particularly appreciative of the efforts of Miss L. McCallum and Mr C. Kelly, who had to respond to encores which would not be denied.
Mr J. Smillie gave several violin solos with marked success, the audience showing great delight in his performances.
A vocal duet was given by Messrs Kelly and McCallum.
Rev. Norman Mackenzie, M.A., minister of the congregation, presided over the gathering with great acceptance.
Miss Agnes Macmillan, organist, played the accompaniments with taste and sympathy, and has much credit by the success of her direction of the entertainment.
A few remarks in a happy vein were made by Rev. C. V. A. MacEchern, of Castlehill Church, and at the close the customary votes of thanks were appropriately moved by Mr Robert Colville.