Artist uncovers Davaar island's historic cave painting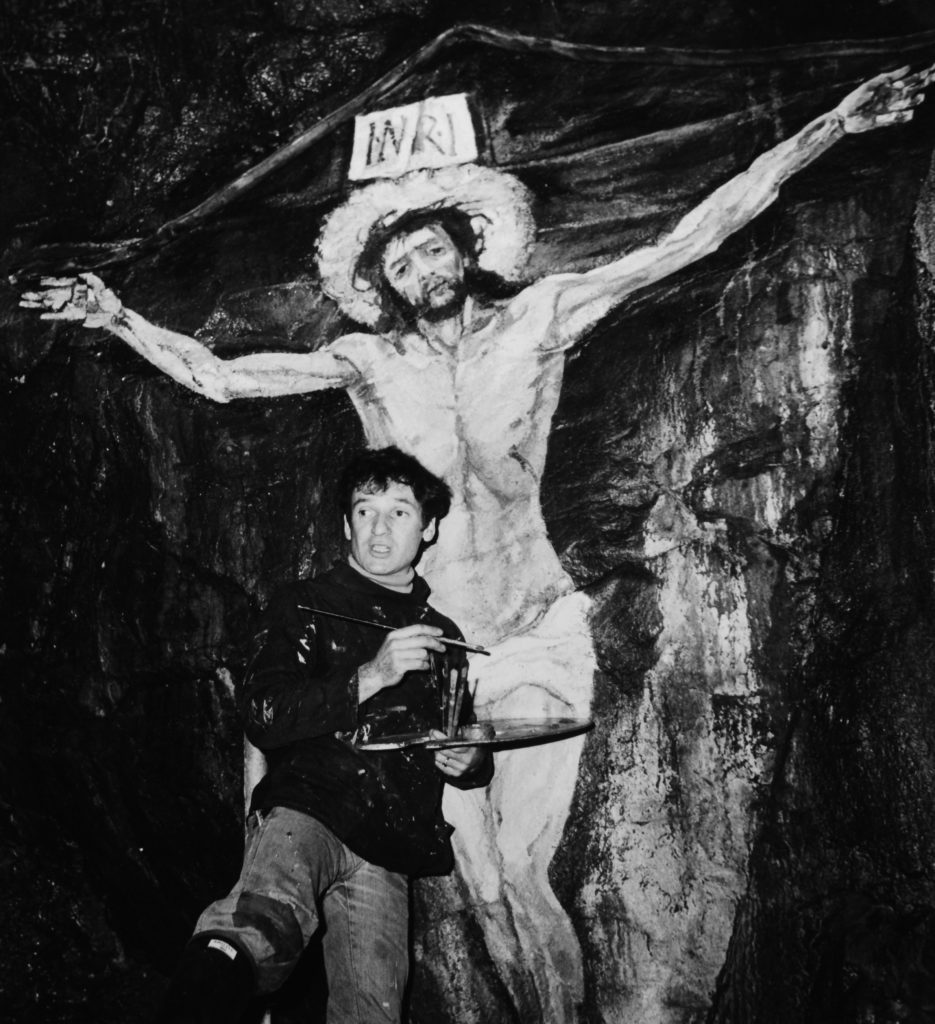 Want to read more?
We value our content and access to our full site is only available on subscription. Your subscription entitles you to 7-day-a-week access to our website, plus a full digital copy of that week's paper to read on your pc/mac or mobile device In addition your subscription includes access to digital archive copies from 2006 onwards.
Problems logging in and require
technical support?
Click here
Subscribe Now
By Mark Davey
The latest interpretation of Davaar Island's unique crucifixion cave artwork includes a loin cloth styled after Diego Velázquez.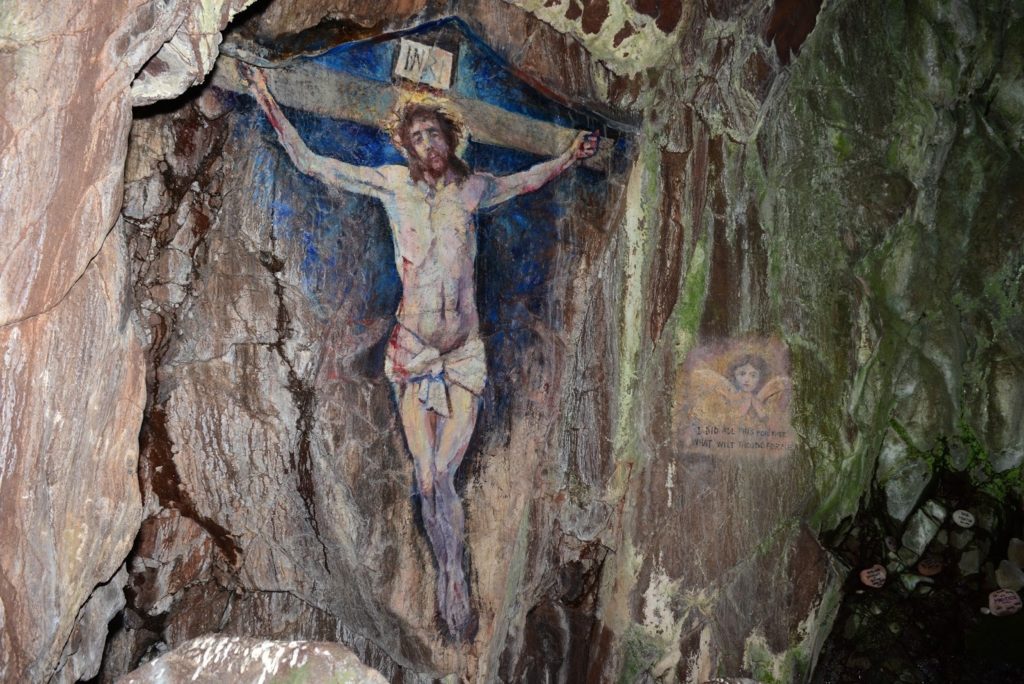 At a Kintyre Antiquarian and Natural History meeting last month, former Grammar school art teacher, Ronald Togneri, who has inherited the role of preserving Archibald MacKinnon's  artwork, spoke about the painting's history from his experience of its continual restoration
Opening his talk, Mr Togneri said: 'I am heavily indebted to others who have ploughed this furrow before me.
'I can add some subjective opinion and bring the story up-to-date perhaps by talking about the post-MacKinnon years.
'I am indebted to sources like Angus MacVicar's 'Salt in my Porridge' and Angus Martin's 'Kintyre the Hidden Past.
'Probably the soundest work is Murdo MacDonald's in The Kintyre Magazine, issue 65, spring 2009, a magisterial study of the subject.
'It is remarkable that in a population of 7,000 people, Campbeltown between 1819 and 1865, produced five artists all of whom, with the exception of MacKinnon, found considerable eminence.'
These included William McTaggart, 1835 to 1910.'
'McTaggart supported the young MacKinnon in his Campbeltown ventures.
'Like McTaggart, Mackinnon's earlier work was in a narrative style, genre painting, always with a characteristic vein of humour bubbling up through it.
'His work was often labelled naive but the naivety is perhaps in it technical proficiency not in the thought processes behind his work.
'MacKinnon worked in Campbeltown for a scant three years. He had returned from Glasgow where, apprenticed as an engineer, he had studied art at Glasgow School of Art at night classes.
'MacKinnon's early years in Glasgow saw him finding quite a degree of success.
'He exhibited at the RSA, Glasgow Institute and there is a watercolour, called Tierfergus Glen, which he submitted to the Glasgow Institute.
'His Campbeltown Fair, from 1886 is, to my mind, his masterpiece, the finest thing he ever did.
'It was exhibited that year in the Edinburgh International exhibition of science, industry, technology and art.'
Mr Togneri said that the work clearly owed much to genre paintings by an earlier artist, David Wilkie, whose genre paintings looked back 100 or more years as did Mackinnon's of the fair.
Mr Togneri said the painting's flowing crowd of figures showing humour is held together by the architecture.
He added that MacKinnon marketed images of the painting as a way to make money and of his painting Hogmanay in Campbeltown.
These paintings were donated to Campbeltown Museum anonymously in 1904.
Mr Togneri added: 'Mackinnon's mother had been widowed quite young and poverty had driven him to Glasgow.
'Eventually she found work and must have bettered her financial position quite a bit because Archibald decided he was going to be a professional artist.
'That's how he was going to make his living having trained as an engineer. He came back to Campbeltown to pursue that, things were going well for him making a living as an artist.
'But, in August 1887, he took a crucial life-changing decision and that was when he surreptitiously crossed the Dhorlin and embarked on his cave painting.
'He did this he said, in response to a dream, he saw the painting in a dream in a cave.
'He later said he had never been on Davaar Island before and I find both of those statements a wee bit hard to accept.
'Even though MacKinnon painted that in Glasgow, I think he must have been sketching and drawing in Killdalloig Bay and I am sure he would have been on Davaar.'
Comparing religious works by McTaggart to MacKinnon's Crucifixion in the cave, Mr Togneri said: 'It was full-on in your face, quite shocking.
'Looking at it now in its setting, if you walk round towards the cave, the columnar basalt faulting soaring up immediately suggests Gothic vaulting, it is like a cathedral.
'It seems an appropriate site for a religious work.
'It looks as though it belongs, it look as if it has grown out of the rock. Although we only have monochrome photographs of it, possibly retouched, you can see that Archibald Mackinnon's figure has a strength and a vigour.
'It also links to perhaps the more modern work of someone like Georges Rouault, in that simplified, stylised figure of heavy outlines, sombre colouring and dark tonality.
'These qualities are what caused offence to people eventually.'
Mr Togneri added that one of the paintings of the day was Golgotha by Mihály Munkácsy and in 1887 it was exhibited in Glasgow.
'It was a cause célèbre, everyone knew about it,' said Mr Togneri.
People flocked to the cave and Mr Togneri said one report told of an Episcopalian minister, who had been seen going backwards and forwards, but that he had been dead for some years.
'Art students and journalists came in increasing numbers, between 4,000 and 5,000 by the end of the first week.
'A local wag told a journalist, as he queued in line to view the cave: "Beware of Campbeltown, one half of the lies told in it are not true and the others most certainly doubtful.
'The next edition of the Campbeltown Courier revealed that Archibald Mackinnon had come forward with photographic proof of himself as the artist.
'Outrage replaced awe and approval.'
Mr Togneri told of a letter from Proteus, (he must have been an educated man) writing to the Courier. He wrote a lengthy denunciation notable for its viciousness.
The letter said that the face was that of a ruffian and vulgarity is writ large in every tone. The writer added he cannot paint higher than his own level and Mr MacKinnon's level is a pretty low one.
Mr Togneri added that MacKinnon's career had been going well in 1887 and said: 'As he ruefully confessed to the Argyllshire leader in 1934, the cave picture finished all that.'
MacKinnon bolted to Liverpool where a friend found him a job with Cammell Laird, the shipyard. He worked there until he moved to Nantwich.
MacKinnon returned to Davaar 11 years after leaving, in September 1898, completely repainting a more conventional image and adding a little angel, with feathered wings, at the side.
Mr Togneri said: 'I think the harsh criticism he had received had preyed on him leading to the revision.'
MacKinnon made a postcard of the painting adding gulls and a puffin to make it quite clear that it was a painting in a sea cave.
Later postcards were produced by Valentines.
MacKinnon's final return was in 1934 accompanied by his daughter Dorothy, who also returned one last time in 1966 to look at her father's work.
His 1934 visit was covered by radio, cinema newsreels and reporters. He was met at the pier by the council and crowds of supporters.
Mr Togneri said: 'This painting was rededicated by the moderator of the Kintyre presbytery and the Roman Catholic priest standing side-by-side, a rare ecumenical event for Kintyre.
'Angus MacVicar was then working for the Campbeltown Courier and he asked MacKinnon if he had made a good living as an artist.
'He said: 'I was only an artist when the mood was on me and that mood didn't come very often. I made my bread and butter as an art teacher.'
'He was later to hit the jackpot, posthumously, with a painting of the first point-to-point at Nantwich which sold at an auction for £250,000 to the racing fraternity.
'MacKinnon passed away on his birthday in 1935.'
The crucifixion scene has been in a constant state of decay and within 20 years there was a drastic deterioration in the cave painting.
Water percolating round from all the soil and the rock above was running down the wall constantly, the paint became friable and the town council appointed John McAnally to restore and repaint the image.
Mr Togneri added: 'He was my art teacher at the Grammar School and I have to thank him for getting me into Glasgow School of Art.
'John was a devout Catholic and he saw this work as a labour of love and a privilege.
'He used MacKinnon's figure and kept the pose with much stronger better proportion.'
The painting did not fare any better and further erosion led to John MacKinnon Crawford, who had succeeded McAnally as art teacher, being asked to carry out further restoration in 1963.
Mr Togneri said: 'John, being John charged a fee, he said that professional integrity demanded it and pride said that he paint his version.
'John Crawford was a brilliant draughtsman and a very fine painter. It was a homage to late renaissance painting.
'Colour very subtle and the paint handling really a bravura performance. John used the newly developed acrylic paints to make sure it would last.
'This was the finest of all the cave paintings.'
By the mid-1970s the community council had taken up the reins of restoration.
Under the leadership of David Gardener a lead gutter was installed above the painting and this stopped the water penetration.
Mr Togneri said: 'I worked from scaffolding put up by the community council. For continuity I painted in the style of John.
'When I removed the peeling paint there was nothing to be scene of the previous work.
'With the confidence and egotism of youth I did my own thing, instead of the upturned gaze I painted Christ as a man, and a man of our own time in 1978.
'The painting remained untouched, until July 2006, when disaster struck.
'An anonymous vandal used stencils with car spray paint to paint in red and black images of the Che Guevara poster across most of the painting.
'How did I get it off?'
'It was still wet when I saw it. I used solvents but that took most of the paint off.
'The Turners from Killdalloig gave me £100 worth of acrylics.
'I tried to correct some of the previous drawing and restored the little angel which seemed to have disappeared.
'I changed the loin cloth in tribute to my hero Diego Velázquez.'
'If restoration of the cave painting were ever necessary again I am inclined to think that it shouldn't be of the current painting, my last version, Christ number eight.
'I think it should be of the first one. In 1978 I had no knowledge of the first painting I had never seen the image.
'If it were recreated I think people would be able to appreciate what all the fuss was about in 1878.
'The concept remains unique, whatever version and I think it must remain an obligation to Campbeltonians to ensure its preservation.
'I would like to see the custodianship of it formalised to a public body, the museum, the library, the common good fund or Historic Scotland.
'I think it should be in Campbeltown public hands if possible.'
Mr Togneri added that perhaps a public information board about the painting could be created, maybe housed in the museum for those unable to go to Davaar to see the painting.
'I know of no other remotely similar painting anywhere at anytime, ever.
'Archibald MacKinnon surely put Davaar Island on the map with his great leap of creative imagination.'
Ronald Togneri restoring Archilbald Mackinnon's historic artwork in 1979. NO_c50cavepainting01_Ronald_Togneri_restore
The current eighth Christ. 25_c48crucifixionpainting01_davaar_island
Ronald Togneri in 2018. 25_c50cavepainting02_Ronald_Togneri_2018